Connect with anyone, from anywhere.
Host audio and video calls from any compatible device with online meetings in TeamsLink.
A majority of workers say they have more meetings today than they did 10 years ago, and more than half of those are either virtual or a combination of virtual and in-person. But are meetings getting better? Microsoft surveyed more than 3,000 people across geographies and generations to understand the biggest problems with everyday meetings, and how they can be resolved.
Here are 10 tips for before, during and after your meetings to help make them more productive and collaborative, whether you're running one or just participating.

Before
1. Share your agenda
2. Invite internal and external partners to join your meeting
3. Access previous meeting notes and recordings for more context

During
4. Use Microsoft Teams Rooms to start your meeting right away
5. Record your meeting
6. Adjust your settings before you join
7. Share your content and collaborate easily
8. Use integrated audio conferencing for attendees without internet

After
9. Share meeting recordings and meeting notes
10. Schedule follow-up meetings if needed
Download our e-book for more guidance and run your online meetings like a pro.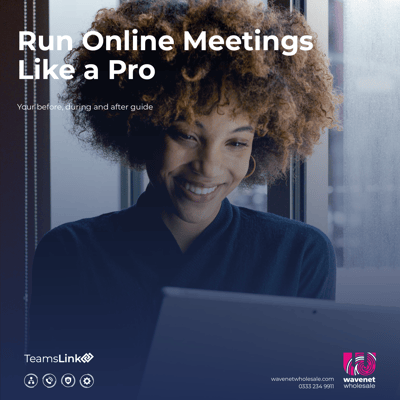 ---
---
Why Wavenet Wholesale?
Wavenet have over 20 years experience in voice technologies working with businesses across the UK to deliver high-quality, reliable voice and phone systems. With TeamsLink we have partnered with Microsoft to create a platform that provides on-net, high quality traffic through diverse routes to give your customers the ultimate unified communications foundation.

We have an internal development team dedicated to advancing our technology and providing our customers with the best solution on the market. As well as our own developers we are partnered with vendors that can provide Microsoft Certified handsets that run Teams directly on-screen, giving your customers the choice of how they roll out Teams calling to their users.
Partner with Wavenet Wholesale and ensure you close every deal.