Customers have a wealth of choice at their fingertips, from the companies they choose to do business with, to they way in which they communicate with those businesses.
As a business, if you want to stay ahead of your competitors it's no longer, in the eyes of a customer, acceptable to offer the phone as your only means of communication. Particularly if this is then within the constraints of a standard working day.
Communication Preferences
Customers often prefer to communicate by email, live chat or even social media, and the inability for a company to communicate in a customers chosen way, particularly in the light of so many complaints being made public across social media channels can be catastrophic for a business.
Omni-channel communication is all about providing a seamless customer service experience across all platforms, and businesses are already reaping the benefits.
Multi-channel Vs Omni-channel
Multi-channel was once king, offering your customers a range of avenues in which to make contact with your company. Omni-channel takes this one step further and gives agents an overview of customer interaction, regardless of how this is made, all in one consolidated format. Giving fast visibility of customer-centric data.
Customers want convenient, customisable and personalised interactions with their favourite brands. And the ability to start and continue these interactions on the platforms they use most frequently.
The Omni-channel experience gives the customer the best experience possible. With customer data at the agents fingertips there is no need for the customer to repeat themselves if transferred to a different department, or agent.
Bridging the Gap
One of the huge benefits of Omni-channel is that it removes the boundaries between sales and marketing, giving visibility of all customer interactions in once place. This allows a sales agent to be better armed to deal with a customer complaint by having access to the customers history, and for marketing departments to track, monitor and improve their marketing campaigns. Omni-channel provides useful contextual data which can be used to improve all areas of the business.
In an era where contact centres are under pressure to keep up with an ever increasing demand for better customer experience, Omni-channel bridges the gap between departments in a way that multi-channel is unable to compete with, providing a complete overview of the customer journey.
If you're looking to future-proof your business and streamline your processes, the business benefits to an Omni-channel contact centre are far reaching. From the ability to deliver strong commercial and consumer insights to increasing agent performance and efficiency.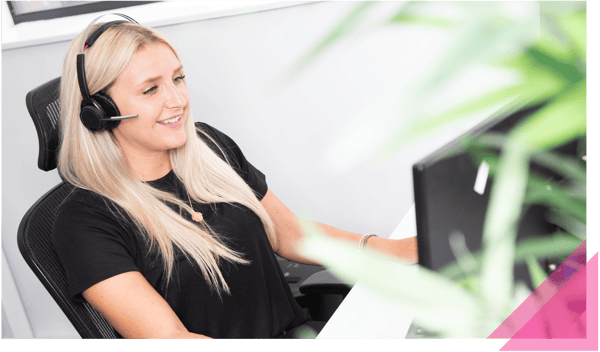 ---
Join the Wavenet Wholesale community, become a partner today.

Why Wavenet Wholesale?
Wavenet have over 20 years experience in voice technologies working with businesses across the UK to deliver high-quality, reliable voice and phone systems. With TeamsLink we have partnered with Microsoft to create a platform that provides on-net, high quality traffic through diverse routes to give your customers the ultimate unified communications foundation.

We have an internal development team dedicated to advancing our technology and providing our customers with the best solution on the market. As well as our own developers we are partnered with vendors that can provide Microsoft Certified handsets that run Teams directly on-screen, giving your customers the choice of how they roll out Teams calling to their users.
Partner with Wavenet Wholesale and ensure you close every deal.