Call Recording
Compliance Recording for Microsoft Teams
Are you looking at Teams as a means to support uninterrupted communications and maintain business continuity, with compliant call recording?
---
The COVID-19 crisis may mean your business or customers are looking at Teams as a means to support uninterrupted communications and maintain business continuity.
If compliance concerns are delaying your Microsoft Teams adoption, read on to find out what you should consider before choosing a recording solution. Let's dive in with an overview, more advice and guidance can be found in our E-book written by Verint.


Why is compliance recording for Teams relevant to my business?
In response to the Covid-19 pandemic, companies are looking to Microsoft Teams to maintain uninterrupted operations and communications. Unsurprisingly, Teams now has over 75 million daily users and is still growing. But, what if your business needs to comply with external regulations, internal policies or industry standards that dictates what electronic communications must be monitored and regulated?

How do I unify and automate recording to capture all Teams calls and meetings?
Regulated industries may need to record voice calls, video conferencing, messaging, chat and other types of interaction. For security and reliability recording will need to be automatic. You should consider a recording platform that has been subjected to Microsoft's Technology Adoption Program (TAP), to help ensure reliability and meet the regulated obligations.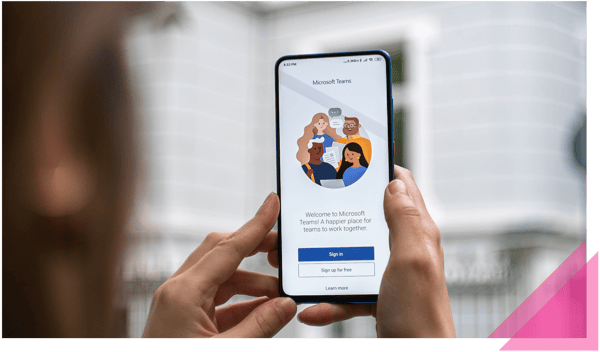 How to simplify the deployment, maintenance and scaling of the recording system?
When deploying a recording solution for your business, ensure that it supports your specific business requirements, without adding further complications for your IT team.
The Teams API uses recording bots running in Microsoft Azure Cloud. You have the option for other components to be rolled out in the cloud too, on premise, or using a hybrid. Things to consider:
where do you want to store all the recorded data?

what is your infrastructure budget and expenses?

Do you want flexibility and scalability?

Do you have legacy hardware that may require additional technology?
How can I tap into unparalleled security and resilience for teams capture?
When considering a compliance recording solution for Microsoft Teams, you should look for the highest level of resilience and high availability. These are essential to avoid the risk and the regulatory consequences of having a nonfunctioning recording system.
This is especially true in environments with a high daily volume of phone calls and collaboration, such as trading environments, global back-office operations, and large contact centres – whether remote or office-based.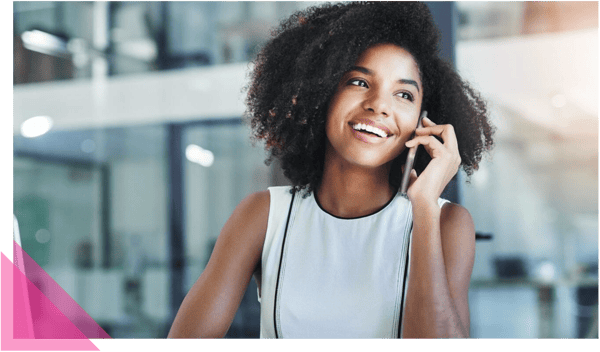 How do I manage, analyse and get value out of the recorded data?
Secure data governance, advanced analytics and open integrations should form the core of any comprehensive technology solution to capture all Microsoft Teams collaboration across your organisation – no matter the size of your business or the market vertical you operate in.

Wavenet in partnership with Verint, your trusted partners for Microsoft Teams compliance.
Verint® offers an integrated, resilient compliance recording solution for centrally capturing, storing, retrieving and analysing Microsoft Teams voice calling, screen sharing, video conferencing, chat and other modes of
collaboration – alongside other tools and channels in multi-platform communications environments. It can help regulated organisations manage the complexities of regulatory compliance across all interactions in Microsoft Teams meetings.
As one of the first members of Microsoft's Technology Adoption Program (TAP), Verint has been already collaborating with leading organisations globally, including Wavenet, to help them roll out Microsoft Teams recording for compliance purposes.
View and save our e-book for more guidance, written by Verint.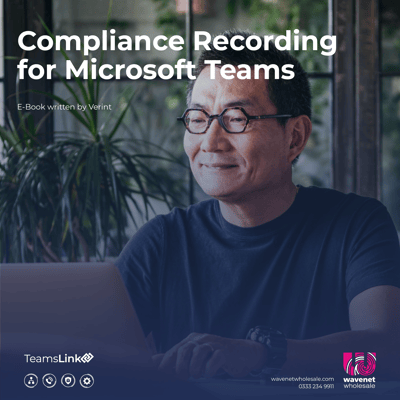 ---
---
Why Wavenet Wholesale?
Wavenet have over 20 years experience in voice technologies working with businesses across the UK to deliver high-quality, reliable voice and phone systems. With TeamsLink we have partnered with Microsoft to create a platform that provides on-net, high quality traffic through diverse routes to give your customers the ultimate unified communications foundation.

We have an internal development team dedicated to advancing our technology and providing our customers with the best solution on the market. As well as our own developers we are partnered with vendors that can provide Microsoft Certified handsets that run Teams directly on-screen, giving your customers the choice of how they roll out Teams calling to their users.
Partner with Wavenet Wholesale and ensure you close every deal.