Microsoft Teams
How to Customise Your Background in TeamsLink
Change your background for a Microsoft teams meeting on a mac and pc. Customised backgrounds in Teams.
---
The New TeamsLink Feature
There have been many new features to Microsoft Teams recently, all improving your meetings, calls and conferencing experience. One of our favourites is the ability to change and customise backgrounds. If you want to change what appears behind you in a video conference, you can either blur your background or replace it entirely.
Change your background before a meeting starts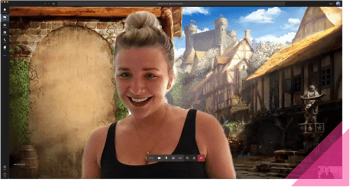 Before joining a meeting and while you're setting up your video and audio, select Background effects
. It's just to the right of the microphone switch. You'll see your background options displayed on the right.
Choose Blur to blur your background. You'll appear nice and clear while everything behind you is subtly concealed. Or, replace your background and transform your surroundings into something else by selecting one of the images provided. There are several to choose from, to make it look like you're sitting at a beach, in space, or just in a cleaner office.
Change your background during a meeting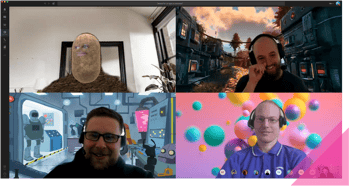 Once you've joined joined a meeting you can still change your background. Go to your meeting controls and select More actions
> Show background effects.
Select Blur to blur your background, or choose from the selection of images to replace it.
You can preview backgrounds to see how they looks before applying it for fellow attendees to see.
Add your own customised background
If you like the new customised backgrounds feature in Teams but want to add your own background image in, whether it's an image of the office, or the Simpson's living room, follow the steps below. We've explained how to access the folder within Microsoft Teams to unlock your custom backgrounds.
Keep in mind that you need the desktop version of the Microsoft Teams app on a Mac or PC, and have received the customised background roll out.
On Windows, you'll need to navigate the file system. You can add your own backgrounds to the %APPDATA%\Microsoft\Teams\Backgrounds\Uploads folder (you can copy and paste this into your search bar in Windows to find the location).
On a Mac, your backgrounds will be in the client folder for Microsoft Teams in ~/Library/Application Support/Microsoft/Teams/Backgrounds. You might need to hold down the Option key before you can find the appropriate library.
Add, save or drag and drop your own personal customised images into this folder. We recommend using a high quality image to ensure that it looks clear for the other meeting participants. Once your images are saved in this folder it should appear within the background options for you to select.
We'd love to see your favourite customised backgrounds, tag us on LinkedIn or send us a DM and we'll feature our favourites!
Notes
If you don't see Show background effects as an option in the menu, the feature might not be available on your device yet.

For now, Linux users aren't able to use this feature.

Background effects won't be available to you if you're using Teams through virtual desktop infrastructure (VDI).

Join the Wavenet Wholesale community, become a partner today.
Why Wavenet Wholesale?
Wavenet have over 20 years experience in voice technologies working with businesses across the UK to deliver high-quality, reliable voice and phone systems. With TeamsLink we have partnered with Microsoft to create a platform that provides on-net, high quality traffic through diverse routes to give your customers the ultimate unified communications foundation.

We have an internal development team dedicated to advancing our technology and providing our customers with the best solution on the market. As well as our own developers we are partnered with vendors that can provide Microsoft Certified handsets that run Teams directly on-screen, giving your customers the choice of how they roll out Teams calling to their users.
Partner with Wavenet Wholesale and ensure you close every deal.