Public Sector
Can Mobile Voice and Data Solutions Help the Public Sector?
Mobile phones are aiding collaborative working in the public sector. Read our blog to discover how your organisation can benefit.
---
Mobile phones are the one piece of technology that most people feel like they can't live without and today, this is even true of businesses.
Whilst the humble mobile phone is often overlooked, it is a powerful piece of technology that keeps teams connected wherever they may be.
Public sector organisations are embracing technology to aid in their digital transformation and remote working has become a large part of this. The introduction of 4G, apps for almost all business processes, enhanced security and the rollout of 5G has seen more organisations adopt mobile phones as part of their technology stack than ever before.
So can mobile phones really help the public sector, and how is a mobile phone instrumental in digital transformation?
Cost
Mobiles can be cheap. There's no denying that. With access to rafts of suppliers, contracts and handsets every organisation can find a cost-effective solution that suits them best.
At Wavenet, we work hard to minimise bill shock. We aggregate our mobile services so that you have one bill, one supplier and one point of contact.
Connectivity
With robust 4G connections and the steady rollout of 5G, mobile connectivity has never been better. Couple this with widely available public WiFi and it's easy to stay connected. This ability to remain connected anywhere means that staff can also work from any geographic location. Implementation of remote working has a positive impact on staff retention and recruitment.
Call Handoff
The benefits of business mobiles now go far beyond the basics of being able to make and receive phone calls wherever you are. With constant advances in both hardware and software mobiles are quickly becoming one of the most important business communication tools.
With the ability to sync in-house VoIP telephony with your mobile means that calls you make are the same as when you are in the office, the seamless call handoff function means that you can keep a conversation going if you need to leave the office or upon your return.
Collaboration
The ability to collaborate effectively is one of the most important aspects of remote working. Mobile phones make this possible. With the ability to join conferences, management meetings, and project meetings staff can participate as if they are in the same building.
Add to this the many collaborative tools that are available on mobile platforms such as MS Teams and it's never been easier for colleagues to keep in touch.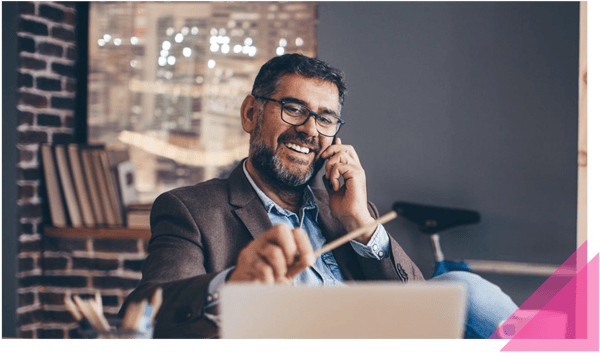 ---
Join the Wavenet Wholesale community, become a partner today.

Why Wavenet Wholesale?
Wavenet have over 20 years experience in voice technologies working with businesses across the UK to deliver high-quality, reliable voice and phone systems. With TeamsLink we have partnered with Microsoft to create a platform that provides on-net, high quality traffic through diverse routes to give your customers the ultimate unified communications foundation.

We have an internal development team dedicated to advancing our technology and providing our customers with the best solution on the market. As well as our own developers we are partnered with vendors that can provide Microsoft Certified handsets that run Teams directly on-screen, giving your customers the choice of how they roll out Teams calling to their users.
Partner with Wavenet Wholesale and ensure you close every deal.