Contact Centre
Call Centre vs Contact Centre
What's the difference between a call centre and a contact centre?
---
Contrary to popular belief, a Call Centre and Contact Centre are not one and the same.
Though the terms are often used interchangeably call centres and contact centres are not the same thing. Whilst both are designed to support customer service, the omnichannel benefits of a contact centre lead to a much higher level of customer experience than a traditional call centre can provide.
With the rising demand for better customer experience, the contact centre is king. Providing agents with a better overall user experience by providing cutting edge technologies at their fingertips that allow them to serve customers better and more efficiently than ever before.
Contact centres also allow customers to communicate through a multitude of channels; emails, social media and even WhatsApp. A call centre is just that, telephone calls only. Contact Centre solutions also normally provided a large amount of add ons which we will cover below.
Automatic Call Distribution
Automatic Call Distribution or ACD is one of the huge benefits of a contact centre. ACD Is commonly found in any businesses that deal with a large volume of inbound calls. By a series of voice commands or keyed inputs, an ACD system will ensure customers are delivered to the right department and right agent first time. Rules-based on a set of instructions can be set up or simple call routing which is designed for a caller to be routed to an agent as fast as possible. Most commonly many variables are set up in the call routing to ensure the customer is directed correctly e.g press 1 for customer services, 2 for billing and account enquiries.
Interactive Voice Response
Interactive Voice Response or IVR is an automated telephony response that interacts with callers, gathering information and quickly routing calls to the right agents and department. IVR systems accept touch-tone keypad selection and voice telephone input and provide the appropriate response via multiple contact methods.

IVR systems can respond by playing pre-recorded messages or via dynamically generated audio which can further assist customers. IVR can also be used in outbound solutions and are more intelligent than predictive dialler systems.

IVR can be used in many scenarios, from making payment to travel information. IVR and ACD are sometimes confused for the same thing, however, ACD is only a method for routing calls, whereas IVR takes an input, processes it and returns a result.
Chatbots
Chatbots come into their own in the contact centre setting. Artificial Intelligence which helps support a self-service and messaging-based customer service. Chatbots are programmed and learn to deal with simple customer queries from order tracking, to password resets based on keyword recognition. The benefit of a chatbot is that it frees up agents to deal with more complex customer service queries.

Chatbots can be programmed to respond to key phrases such as "reset my password" but to also learn and offer dynamic responses.
CRM Integration
Integration in to an existing CRM of choice is always a huge benefit of the contact centre, the ability to provide real time call analytics and for agents to dip in to historical contact data brings customer service to the forefront of the contact centre. This allows agents to deal with customers efficiently and to provide complaint resolution much quicker than if they have to cross reference between several different sets of data. CRM's provide users with a sophisticated view of all the data held on a customer.
As you can see, a contact centre gives a much wider view of customer data and allows the customer to choose their communication means.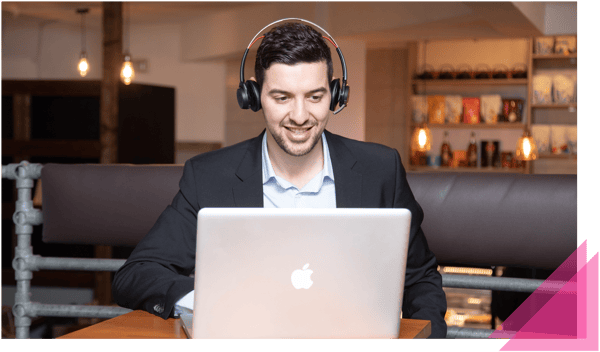 ---
Join the Wavenet Wholesale community, become a partner today.

Why Wavenet Wholesale?
Wavenet have over 20 years experience in voice technologies working with businesses across the UK to deliver high-quality, reliable voice and phone systems. With TeamsLink we have partnered with Microsoft to create a platform that provides on-net, high quality traffic through diverse routes to give your customers the ultimate unified communications foundation.

We have an internal development team dedicated to advancing our technology and providing our customers with the best solution on the market. As well as our own developers we are partnered with vendors that can provide Microsoft Certified handsets that run Teams directly on-screen, giving your customers the choice of how they roll out Teams calling to their users.
Partner with Wavenet Wholesale and ensure you close every deal.