Cloud, on-premises, or hybrid: which cloud is best for you?
Are you considering the benefits and risks of a cloud- or premises-based solution, looking at the fundamental requirements for each system, or how to measure ROI? Here's some guidance on the information available to you, evaluating what your business needs are, and analysing what solution is best for you.
Solar recognises there is not a "one size fits all" communications solution. To help you understand what's best for you, consider the decision tree below to gauge a better understanding if cloud is best for your business. You might be surprised to learn that an on-premises solution or a hybrid solution best suits your company.
Don't let your communications system hold you back. In a world where competitive differentiation matters, your communications system needs to work with you, not against you.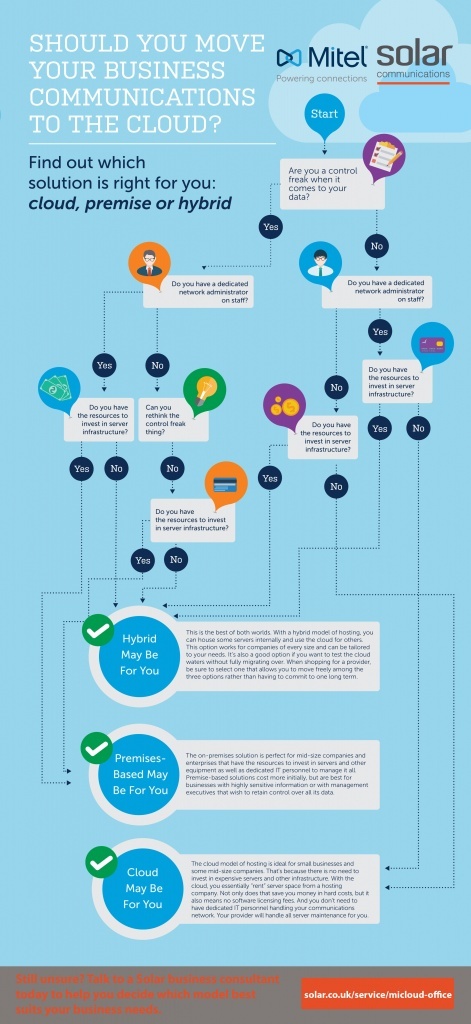 Interested in learning more? Why not join our webinar on June 1st at 3:00pm when, together with Mitel, we discuss the digital transformation in the IT landscape and how now might be the right time for you to make the move to cloud. This is the first in a series of webinars we will be running to help inform you about what is happening in the IT world so that you can make a decision that is the best fit for you.
Did you see our previous whitepaper on how the evolution of consumer demands changed cloud communications? If not, click here to find out more.
How about our white paper which explored how cloud communications was opening up possibilities for businesses, as well as floor space within the office? Access it here
Want to learn more? Why not contact us and speak to one of our specialists who can talk you through any questions you might still have.
Contact us