The following diagram shows market segmentation with characterisation and how Mitel's MiCloud solutions are mapped across that segmentation.
Customers using a MiCloud solution based on MiCloud Office are typically driven by its offering of advanced business communication from the cloud. The solution enables multi-tenancy and scalability. Multi-tenancy means that each enterprise or organisation defined in the service provider's offer has its own solution.
The solution scalability is built upon a model where different organisations are partitioned to belong to different Service Node pairs, and the Edge Node directs the incoming traffic to the right node.
The Mitel MiCloud Office Service provides Mitel and their Business Partners (Denwa) with a Unified Communications platform in the cloud. MiCloud Office was designed as a tenanted hosted platform enabling Mitel to quickly design and deliver cloud based unified communications solutions to their client base.
[Click image to Zoom]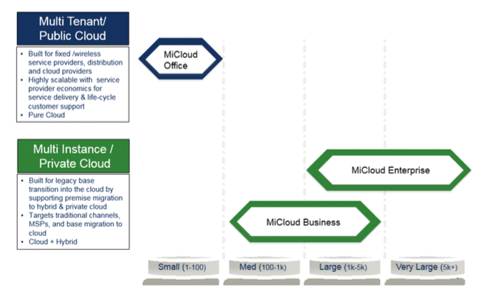 If you're seeking more information and help comparing Mitel's latest MiCloud phone systems contact UK MiCloud reseller; Denwa on 0330 333 7323
Read our article which compares MiCloud Office with MiCloud Business.