In this special guest blog, written by EMEAA Channel Sales Manager Mike Korkidakis, he talks about his background as a remote worker, the benefits and why it works for him.

We've all heard the arguments. How do we monitor and manage an employee who works from home? Beyond this initial tension lies the false perceptions within an organisation that working from home is somehow less productive or a blanket license to 'do nothing.' In this short brief, I want to personally address these perceptions and give insight from my own experience of working remotely.
As background, I have been a remote worker for the past eight years in various organisations, Wavenet is an organisation that has embraced this mode of productivity, at a time when many others have struggled to implement it and understand it. So, what does a day in the life of a remote worker look like, especially in terms of output and results?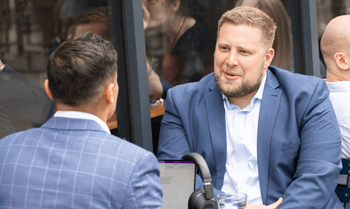 If you're a morning person like me, the beauty of remote working and results-driven management is that you can structure your work for mental efficiency and balanced lifestyle. I'm usually logged in and working by 6:30 am, without having to battle commuter traffic or seemingly never-ending queues. Some of my most productive time is between 6:30 am-9:00 am, before most offices have started their day. The other benefit is flexibility. If I need to take a half-hour school run later in the day, it's easy enough to accommodate. I simply rearrange my schedule accordingly.
Since Wavenet provide and supply the appropriate technology for remote working it makes it easy to have sight of your team and their day. Whilst not physically together, because of presence and calendar sync 24 hours a day I can have instant visibility to the team and their whereabouts. This simplifies not only communication but overall team management. At my fingertips are the options to instant message, email, call, or start a video conference. All done while utilising the most efficient and effective form of communication relevant to the team's whereabouts. We can share information and have face to face discussions, even though we are not psychically together. This also helps in alleviating any anxiety concerning remote workers feeling isolated.
Returning to the structure of my typical day, by starting at 6:30 am and working till at least 12:00 pm, I've already had five and a half hours of productive time while utilising my most effective mental time. At midday, my priorities shift, where for an hour and a half, I visit the gym and have lunch. This allows time out of the house for human interaction and focusing on my health and well-being.
My workday resumes at 1:30 pm and is finishes at 5:30 pm totalling 9 and a half hours of dedicated working time. This daily work-life balance has allowed me to be more productive while taking some time in the day for personal health and welfare. Since I do not have the drudgery of a long end of day commute, I'm available much earlier for my family and other social demands.
I find that I'm happier, more well balanced, and healthier as a result of a work structure that best suits me. My routine will not be the same for everyone. My co-workers have varying schedules which include some evenings depending on their personal needs or demands. What does appear common though, is the level of work-life satisfaction in being a remote worker. This is something I can attest to personally.
Organisations hire, train, and enlist employees to do a job. With such an investment you should be able to trust your workforce. In turn, you can focus on results-driven management whilst allowing your staff the flexibility and freedom to produce. Let's embrace this technology and encourage a work-life balance and watch productivity and efficiency speak for itself.
---