The VX-Xpress is the industry's first FREE fully functional, Virtual WAN Optimisation appliance for the masses. Leveraging Silver Peak's award winning VXOA technology, the entry level VX appliance is an easy and simple to use solution for mid to large sized organisations wanting to experience the benefits of a virtual WANOp system without the costs.

Made available over the internet, business users can download Silver Peak's free WANop application without even registering their corporate details. Silver Peak have recognised that more and more organisations are moving into cloud based architecture; applications running over the wide area, and are discovering the need for WAN optimisation. Using the same core structure as their paid solution it's certainly not a watered down version and has all the benefits including; deduplication, network integrity and network acceleration. It's simply been moved over to work on a hypervisor in a virtual environment, making it the perfect first step to discover the power of data centre class WAN optimization.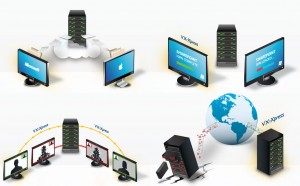 Silver Peak's VX-Xpress Solutions:
Optimize File Transfers (CIFS) with Silver Peak VX-Xpress - It's a challenge maintaining synchronized files across a distributed enterprise and it can be costly to deploy and manage file servers in remote and branch offices. Silver Peak's VX-Xpress Remote File Access eliminates file sharing blues, from Microsoft (CIFS) and Apple (AFS) to Network File Systems (NFS) and File Transfer Protocol (FTP). There are numerous advantages to centralizing enterprise file servers including faster data transfers, quicker access and the process is far more cost effective. Read More…
Optimize SharePoint with Silver Peak VX-Xpress - Does slow access to remote SharePoint files have you cursing Microsoft daily especially when dealing with large files? SharePoint Collaboration is a robust platform for information exchange, however real-time collaboration via SharePoint can also be painfully slow across a WAN – and a hazard to any non SharePoint users sharing the same network infrastructure. With the VX-Xpress, SharePoint benefits from the full range of Silver Peak's WAN optimization techniques, so you can maximize your investment in SharePoint without overhauling your entire network infrastructure. It's fast, free and effective, so what are you waiting for. Read More…
Optimize VoIP and Video Quality with Silver Peak VX-Xpress - Frustrated with dropped links on your videoconferences and video streaming? Does a mobile phone call sound better than VoIP over your corporate network? These and other real-time applications currently account for approximately 30% of enterprise WAN traffic, and are expected to grow significantly over the coming years. Too much latency, jitter and packet loss across the WAN causes conversations to be dropped, garbled, or pixilated. Silver Peak's high quality WAN infrastructure makes conversations sound crystal clear and provides a strategic enabler for unified communications with the VX-Xpress. Read More...
Optimize Your Live Replication and avoid Disaster Nightmares with Silver Peak VX-Xpress - Are you one disaster away from losing all your company's data? WAN optimization is an indispensible component of offsite disaster recovery projects. The VX-Xpress, not only reduces the total cost of ownership (TCO) for critical offsite data protection, but enables easy remote backup and offsite replication at an affordable price. Give it a try – your storage team will thank you! Read More…
Register for Silver Peak's VX-Xpress Community – The peer-driven community forum, moderated by Silver Peak product managers, eliminates costly maintenance fees. The VX-Xpress Community is a network to help IT managers configure and deploy their VX-Xpress virtual appliances. Register for the Forum now to swap stories, view documentation and videos or to speak to Response Data Communications; Silver Peak's leading EMEA reseller.
Get started in 6 steps - Learn how to deploy a VX-Xpress, your path to WAN Optimisation.