New Gartner Research Positions Nimble Storage in the Visionaries Quadrant for General-Purpose Disk Arrays
Response's top storage technology solutions partner Nimble Storage who is the leading provider of flash-optimised, hybrid storage solutions, has today announced that it has been positioned by Gartner in the Visionaries quadrant of the General-Purpose Disk Arrays Magic Quadrant authored by Roger W. Cox, Valdis Filks and Stanley Zaffos. The report, released on March 21, combines providers of general purpose high-end, midrange, and NAS or unified storage systems and positions these vendors into one of four quadrants, Leaders, Challengers, Visionaries and Niche Players. Nimble Storage was recognised as a visionary based on the company's vision and ability to execute. View the full "Magic Quadrant for General Purpose Disk Arrays" report.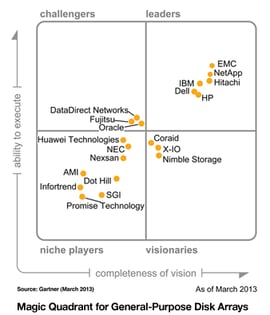 Magic Quadrants provide a graphical competitive positioning of four types of technology providers, where market growth is high and provider differentiation is distinct:
Leaders execute well against their current vision and are well positioned for tomorrow.
Visionaries understand where the market is going or have a vision for changing market rules, but do not yet execute well.
Niche Players focus successfully on a small segment, or are unfocused and do not out-innovate or outperform others.
Challengers execute well today or may dominate a large segment, but do not demonstrate an understanding of market direction.
Want more fantastic resources on storage? Then check out these great whitepapers!
Best Practices for Architecting Storage in Virtualised Environments
How to Avoid the Seven Deadly Sins of Storage
Solutions for Virtual Desktop Infrastructure (VDI)
No Compromise Storage for the Modern Data Centre