Since it's birth in 2009, WhatsApp has taken the world by storm with 1 in 7 people now using it globally – that's more than 1 billion users folks! So we may as well embrace it like Mitel have recently done by integrating it into their MiContact Centre solution.
Let us explain…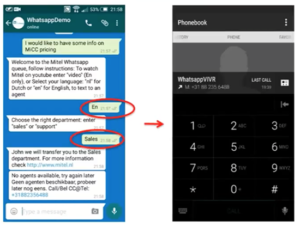 Mitel have developed their MiCC software to talk to WhatsApp and offer live interaction through visual IVR options – having menu's and options popping up on your mobile, to route messages to the relevant agent so a chat can begin. On the 'chat' you can send outbound WhatsApp messages, screenpop CRM, show history, transfer to another agent or department, inject templates and receive a transcript after 'disconnect' – basically you will have the full functionality of MiCC but through WhatsApp, yet you can cut out some IVR steps and take advantage of VIP routing – pretty cool right?
Keep abreast of the latest updates, watch relevant videos and receive on the pulse information by keying in the option you want. Also, if you feel you need to speak with an agent at any point, you can easily transition to a call, or request 'callback'.
"This new development shows how up to speed Mitel really are – they know what their clients want and how they want it. Well done Mitel!"

Neil Tennant, Denwa Head of Cloud Services.
This WhatsApp integration is another great example of media blending to further broaden our communication capability - adding to Mitel's multi channel MiCC platform.
Watch the video for more info...
[video width="640" height="360" mp4="http://solar.co.uk/wp-content/uploads/2016/04/MiCC-WhatsApp-Integration.mp4"][/video]