Innovation at Ignite
At Ignite, Microsoft announced many new features to Microsoft Teams to help people connect, collaborate, and accomplish more together!
This blog focuses on the new announcements from Ignite for Microsoft Teams meetings, calls and collaborations and webinars.
Meetings
Dynamic View
Rolling out soon, dynamic view intelligently arranges the elements of meetings for an optimal viewing experience. As people join, turn on video, start to speak, or begin to present in a meeting, Teams auto-adjusts and personalises your layout.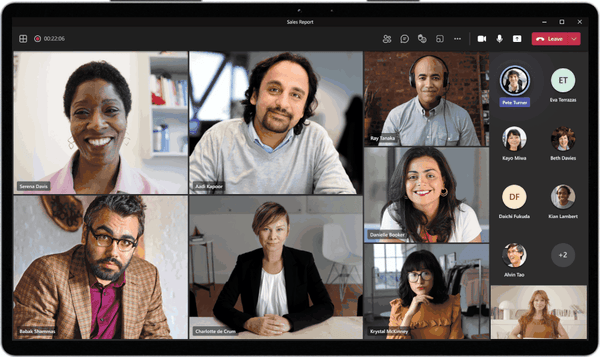 View Switcher
Available soon, the new view switcher in the top bar of your Teams meeting allows you to control how you see the meeting content. You may prefer to interact naturally with colleagues and without visual distractions using Together mode. With Gallery at top, all video feeds display at to the top of your meeting window, making it easier to have a more natural eye gaze with others. Focus hides all video feeds and puts the attention fully on the shared content and Full screen can help remove other desktop distractions.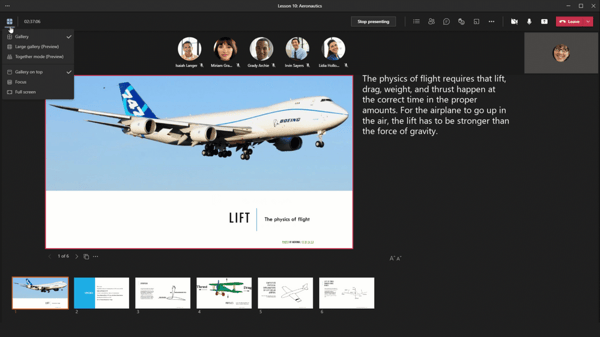 Presenter Mode
Available soon, Presenter mode can be used to step up the production level of your presentations and customise how your video feed and content appear to your audience. The first mode, Standout, shows your video feed as a silhouette in front of the shared content. Reporter places content as a visual aid above your shoulder just like a news story. Side-by-side displays your video feed next to your content. Presenter mode will be available soon.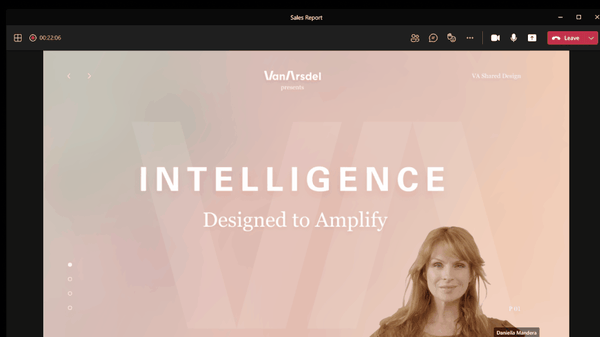 Live Reactions
Available now, all attendees can now use emojis to react during a meeting. These reactions help promote inclusivity in meetings and keep things upbeat and interactive.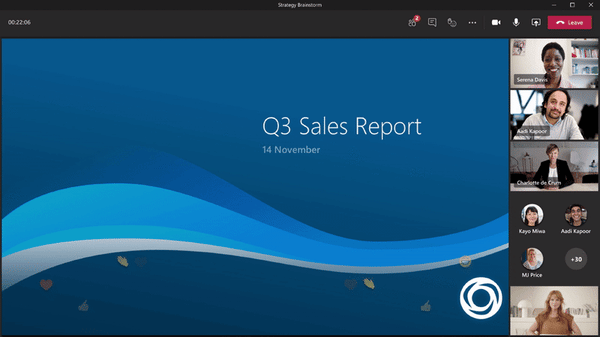 While you're in a meeting, hover over Show reaction
in meeting controls at the upper-right area of the screen, where Raise hand
was before—it hasn't changed and now appears alongside four live reactions, including Like
, Love
, Applause
, and Laugh
.

Next, to share a live reaction with everyone during a meeting, hover over Live reactions and then choose the reaction that you want to express.

Your reaction will appear for a few seconds in your live video feed or on your profile picture at the lower right.
If you or someone else is sharing content in a meeting, such as a desktop, window, PowerPoint deck, photo, video, or whiteboard, reactions will float up from the bottom of the screen for a few seconds. Corresponding reactions also appear on the profile pictures of participants who send reactions.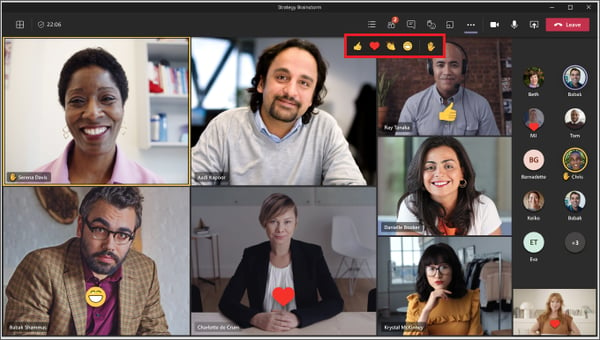 Notes:
Live reactions appear when using filters and backgrounds and in breakout rooms, but not in Together mode or large gallery view.

If live reactions aren't available, check with the meeting organiser or IT admin to see if the feature has been enabled.

Meeting organisers can turn off live reactions in participant settings.

Live reactions aren't currently available in the web version of Teams.
PowerPoint Live
PowerPoint is used around the world to share compelling stories—from personal to professional. As the world shifted to working remotely, we all faced new challenges presenting without a live audience. Reading the room, seeing people's expressions, and natural interactions all became more difficult to do from behind a screen.
Microsoft have created an entirely new remote presenting experience with PowerPoint Live in Microsoft Teams. This exclusive and unique experience benefits both presenters and audience members, offering the rich presenting capabilities of PowerPoint and the collaboration of Microsoft Teams.
Available now, PowerPoint Live in Teams gives presenters control and confidence, while providing a more interactive and inclusive experience to your audience. As a presenter, you can now lead meetings with a single view of your notes, slides, meeting chat, and participants. Attendees can also personalise their experience by navigating the content at their own pace or using the screen reader to consume content, allowing people with vision disabilities to follow along with the presentation more easily.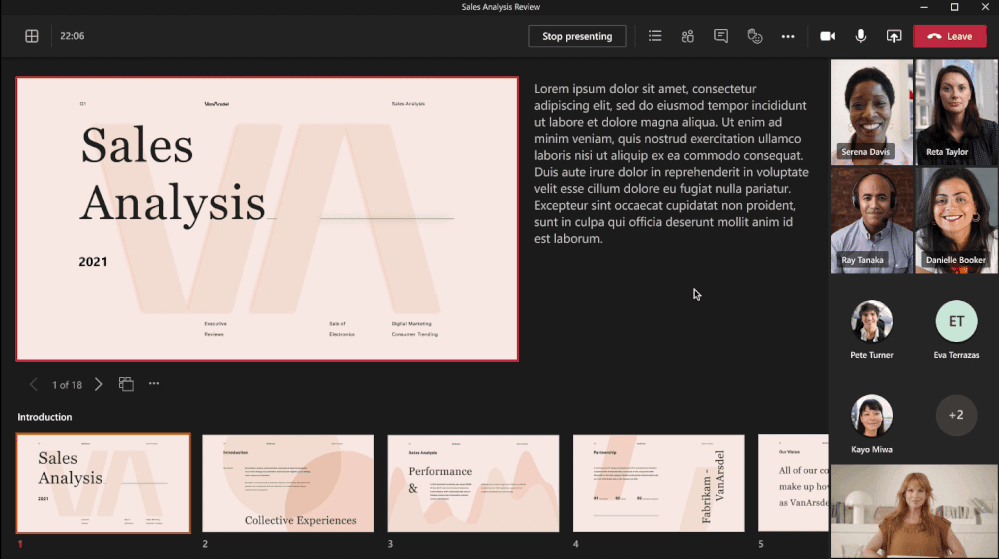 To get started, simply launch a Teams meeting. Then, instead of opening a PowerPoint deck and sharing your screen, unlock the benefits of PowerPoint Live by picking a file under the PowerPoint Live section of the new and improved Share content in Teams.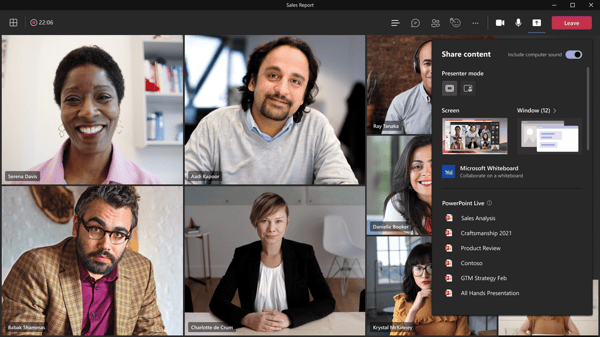 Presenter view gives you all the tools to present confidently - with PowerPoint Live, you have full control over your content. The view you see as the presenter is yours only – review notes, engage in chats, and see your audience – all in one panel view. This private view allows the presenter to see everything in one place while the audience sees only the active slide. For example, view a slide, and next to it your slide notes - so your talking points are never far away. Using the thumbnail strip, you can see what slides are coming next and jump to one. The Grid view enables you to easily find your place in a large presentation.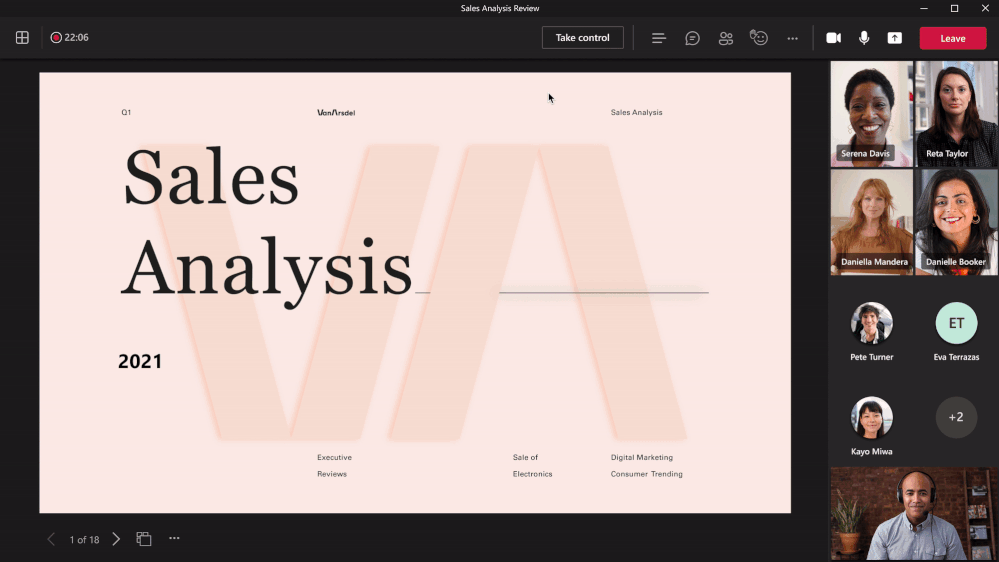 Seamless transition between presenters - If you have co-presenters, they can seamlessly "Take control" and instantly get access to the Presenter View as well. Control can also be easily shared between any number of presenters, so no more fumbling during the presentation to give control to someone else, or worse, asking someone to move to the next slide for you.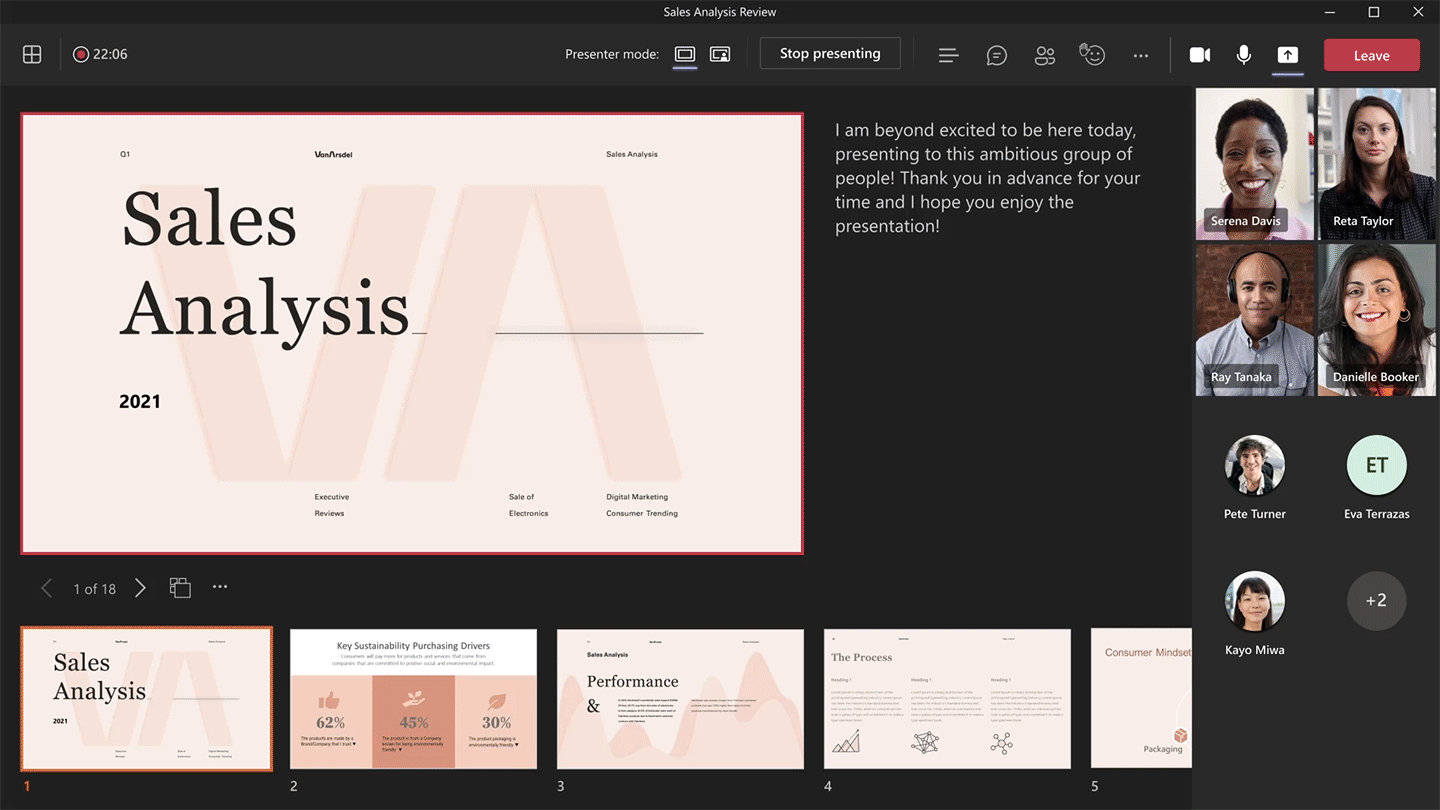 Feel like you're in the room together - Seeing the speaker can reduce the cognitive overload for your audience since they can read your non-verbal cues and stay more focused with you as their visual guide. Presenter mode is a great companion to PowerPoint Live in Teams that makes your presentation immersive and engaging.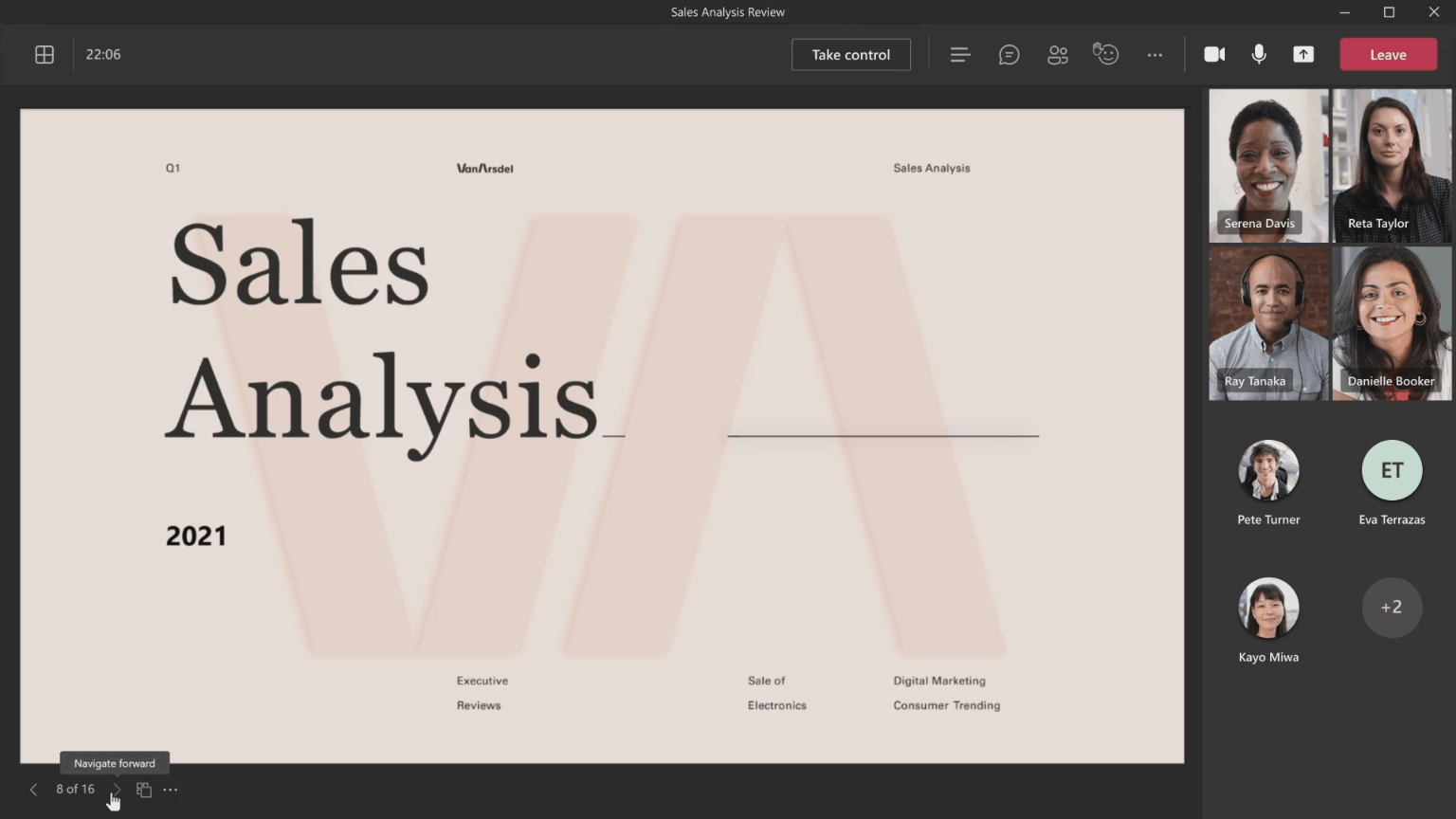 Interactive presentations help engage your audience - PowerPoint Live in Microsoft Teams encourages attendees to interact with content like hyperlinks and videos. This redefines the way people engage with presentations. It not only helps keep viewers' attention, but also allows attendees to consume the content at their own pace.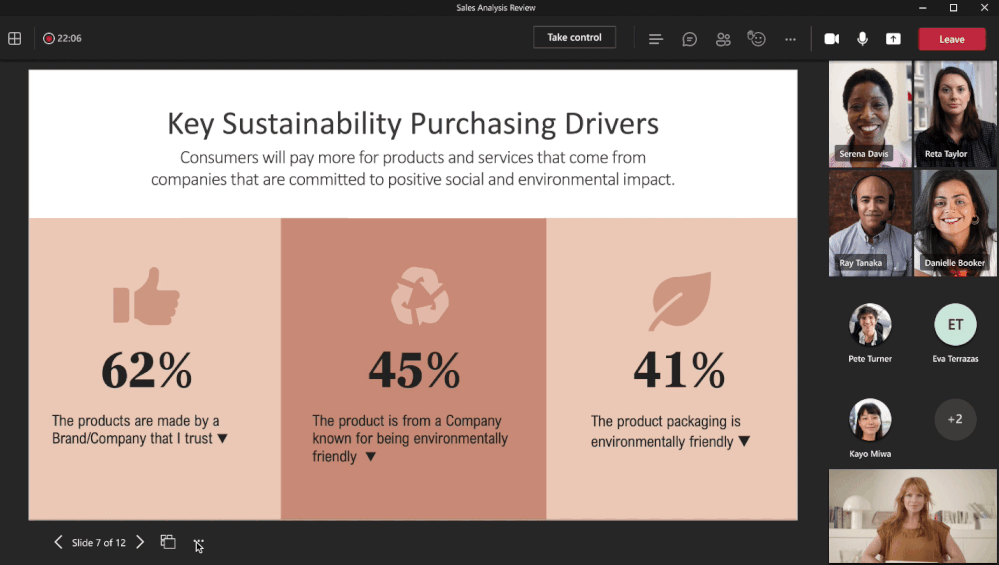 Accessible content enables better comprehension for your audience - PowerPoint Live in Microsoft Teams allows attendees to access the shared content through screen readers. Additionally, a high-contrast mode for all content is available to each participant to choose privately on their device
PowerPoint Live takes presenting in Microsoft Teams to a new level of professionalism, personalisation, and inclusivity. It brings together the creative capabilities of PowerPoint and collaboration features of Teams meetings, to deliver an unparalleled remote presentation experience that's engaging for both presenters and attendees.

Chat and Collaboration
MS Teams Connect
Teams Connect makes it easy to share channels with anyone, internal or external to your organisation. The shared channel will appear within an individual's primary Teams tenant alongside other teams and channels, making it easy for everyone to access it in their workflow. In the shared workspace, you can leverage Teams rich collaboration capabilities: chat, meet, call, share and co-author documents in real-time. Admins have access to granular controls, allowing their organisation to stay in control of how external users access data and information. Teams Connect is available today in private preview and will roll out broadly later this calendar year.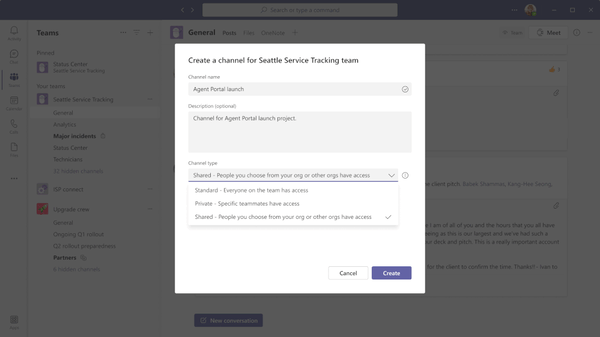 Approvals
Approvals in Microsoft Teams enables you to easily create, manage, and share approvals directly from your workflow. Starting in April 2021, new out-of-the-box and customisable templates will provide a repeatable structure for common approvals—like requesting time off or paid leave. You'll be able to attach files directly from Microsoft OneDrive and SharePoint, as well as attach a generic link for content that is hosted outside of Microsoft 365, so your request will always have the latest content.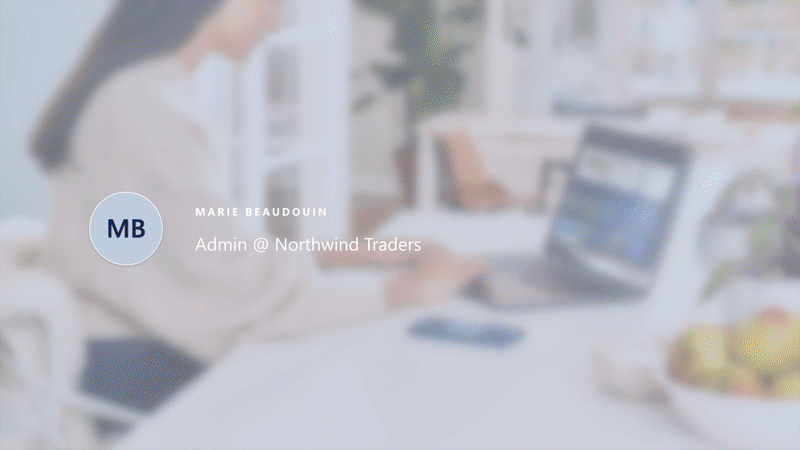 Teams mobile experience
Microsoft announced several new capabilities to enhance the mobile experience. First, the mobile app will have an updated visual look and feel that includes new headers, icons, and styling along with the ability to automatically switch to dark theme when you set your device appearance setting to dark. Other updates include the ability to access files stored in Teams while offline, a new search experience with suggestions, the ability to pin chats, and an expanded library of emojis and the ability to trim GIFs directly in the Teams app. These features are coming to iOS first, followed by Android.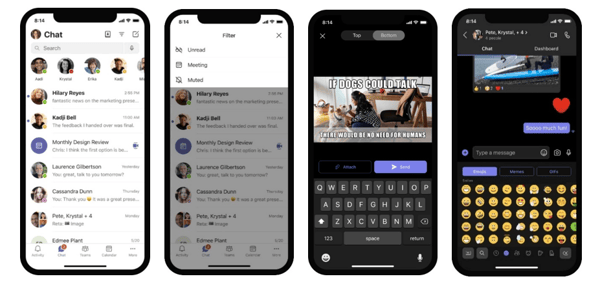 Webinars
Attendee registration and email confirmations
Soon, setting up and running webinars will be just as easy as meetings in Teams. Easily add a custom attendee registration page to your meeting or webinar to manage attendance before and after any engagement. Following registration, attendees automatically receive an email confirmation for a simple join experience.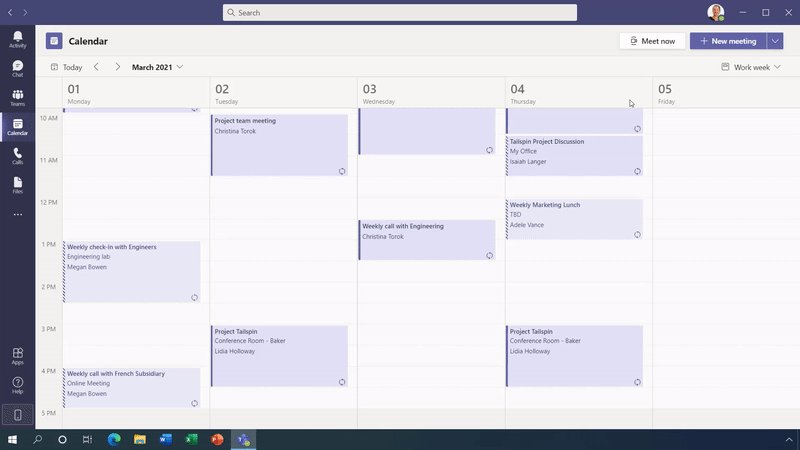 1000 person interactive webinars
Beginning March 2021, Microsoft Teams supports interactive meetings and webinars for up to 1,000 attendees, including rich presentation options, live reactions, and moderation controls to disable chat, audio, and video for the attendees of the event.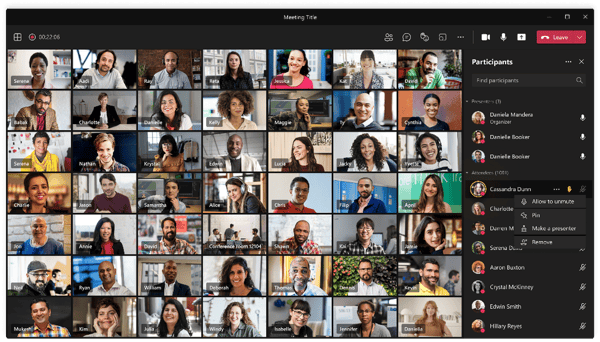 2000 person view-only webinars
Available in March 2021, once your webinar grows to over 1,000 attendees, Teams will seamlessly scale to accommodate a 10,000-person view-only broadcast experience, including host moderation control that automatically disables attendees' audio and video to prevent accidental presentation interruptions. And during this time of increased remote work, take advantage of even larger 20,000-person broadcasts through the end of this year.
Attendee reporting
Following your webinar, you can use reporting to understand attendee participation such as who attended and how long they participated. Download an attendee report to review, or use data to produce your own custom reports. Attending reporting will available to download this month, and additional reporting capabilities within Teams will be available next quarter.