19/11/2020 - Solihull: Wavenet bolsters Southern presence with the latest acquisition of Qubic Group PLC.
Wavenet has announced the acquisition of Qubic Group PLC for an undisclosed consideration.
Following several successful acquisitions in early 2020, Wavenet today announces the acquisition of Qubic Group PLC, a Hertfordshire-based specialist cloud voice and data supplier. The acquisition further develops Wavenet's position in the UK market with Qubic's 25 years of cloud and technology expertise. Like Wavenet, Qubic prides themselves on providing the best support with a team of highly trained people to go above and beyond for their customers.
Joe Papa & Chris Papa, Owners of Qubic Group PLC said:
"It has been great working with the Wavenet team throughout this process, the acquisition of Qubic is an exciting opportunity for all of our customers and our staff. Being part of the Wavenet Group will build on the extensive portfolio of cloud-based voice and data solutions that Qubic is already offering customers and, backed by Wavenet's innovation and growing UK presence, continue to deliver leading-edge services backed up by first-class customer and technical support."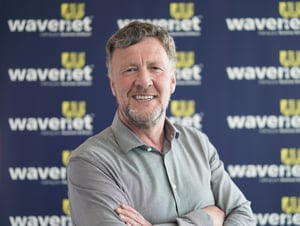 Bill Dawson, CEO of Wavenet commented:
"It's exciting to be able to welcome the Qubic team into the Wavenet Group and provide some positive news in what has been a challenging year for many. The combination of our collective expertise will boost our cloud and technology experience while giving Qubic's customers access to the Wavenet Group's extensive and advanced solutions portfolio.
I am personally delighted to have Qubic joining the Wavenet Group as they share the same values that drive the team at Wavenet every day and look forward to working with their customers to build on the solutions and services they rely on to succeed. We are passionate about building solutions that genuinely make businesses brilliant, and we are excited to be able to bring these modern, innovate services to more customers."
Any press questions should be addressed to Tom Grinnell on 0333 234 0011 or Tom.Grinnell@wavenetuk.com
---
About Wavenet
Formed in 2000, Wavenet has grown through the last two decades to become a respected, multi-award-winning provider of telecoms and technology solutions to thousands of businesses and enterprises across the UK. Wavenet is a managed service provider and has long-standing partnerships with some of the top technology providers on the planet. Wavenet is a Premier Certified Cisco Partner, Microsoft Partner and holds Platinum Partner status with Mitel, Five9 and Silver Peak.
Providing data, voice, contact centre, IT and technology services to over 8,000 SME and enterprise customers, Wavenet has offices in Solihull, Chester, Norwich, Cardiff and Nottingham and employs over 200 people, including over 100 trained support staff and engineers.
About Qubic Group
Qubic Group PLC is an experienced, specialist cloud voice and data company that has been delivering integrated services since 1995. The organisation provides a range of cloud services; computing, telephony, cybersecurity and continuity along with the associated connectivity, support and professional services. The cloud services are delivered through a combination of Private and Public Cloud which includes Qubic's Cloud Nexus and other cloud providers such as Microsoft Azure, AWS and HPE's GreenLake. Qubic is also one of the UK's leading Mitel partners.
Qubic Group has an office in St. Albans, Hertfordshire.