17/02/2020 - Solihull: Wavenet strengthens East Anglian presence with the latest acquisition of Portal Voice and Data.
Wavenet has announced the acquisition of Portal Voice and Data Limited for an undisclosed consideration.
Following the successful acquisition of VIA in January, Wavenet today announces the acquisition of Portal Voice and Data, a Norfolk-based supplier of telecommunications solutions including Telephony, Data, VoIP and Cloud. The acquisition of further develops Wavenet's position in the UK market with Portal's 20 years of telecoms and maintenance expertise.
John Corney, Managing Director of Portal Voice and Data said:
"This is a fantastic opportunity for our customers and staff, the team at Wavenet have made the whole process very easy for us. This acquisition will massively boost the potential of all of our customers giving them access to Wavenet's large portfolio of telecoms and technology services and their first-class customer and technical support."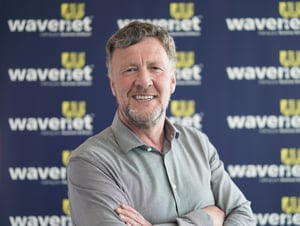 Bill Dawson, CEO of Wavenet commented:
"As with previous acquisitions, this is a really exciting time for the employees and customers of both Portal and Wavenet. Our combined potential and expertise will improve our customer service and maintenance experience and will open Portal customers to Wavenet's extensive and advanced product portfolio, including TeamsLink, our newly launched Microsoft Teams calling and contact centre platform.
I am thrilled to have Portal joining the Wavenet Group and look forward to working with their customers to build on the strengths and service they rely on. At Wavenet we pride ourselves on deploying solutions that make businesses brilliant and we are looking forward to bringing these innovative and market-leading services to more customers."
Any press questions should be addressed to Anneka Hicks on 0333 234 0011 or Anneka.Hicks@wavenetuk.com
About Wavenet
Formed in 2000, Wavenet has grown to become a respected, multi-award-winning provider of telecoms and technology solutions to thousands of businesses and enterprises across the UK.
Wavenet is a managed service provider and has long-standing partnerships with some of the top technology providers on the planet. Wavenet is a Premier Certified Cisco Partner, Microsoft Partner and holds Platinum Partner status with Mitel, Five9 and Silver Peak.
Providing data, voice, security and technology services to over 8,000 SME and enterprise customers, Wavenet has offices in Solihull, Salford, Norwich, Cardiff and Nottingham and employs 250 people, including over 100 trained support staff and engineers.
About Portal Voice and Data
Founded in 1999, Portal began with the goal of providing excellent customer service and support, Portal has grown to supply and support numerous organisations across a wide range of industry sectors across the UK. Portal has also been awarded partnership status with several large suppliers including BT Wholesale, Openreach, Virgin and Cisco.
Portal has an office in Norwich, Norfolk.