Whilst February may be the shortest month of the year, Microsoft have still found time to roll out plenty of new Teams features and functionalities.
Teams and Outlook Integration
A new integration between Teams and Outlook makes it easy to collaborate wherever your team are working. Users can now move a Teams conversation to Outlook by just the click of a button and from March users will be able to move Outlook email conversations to Teams.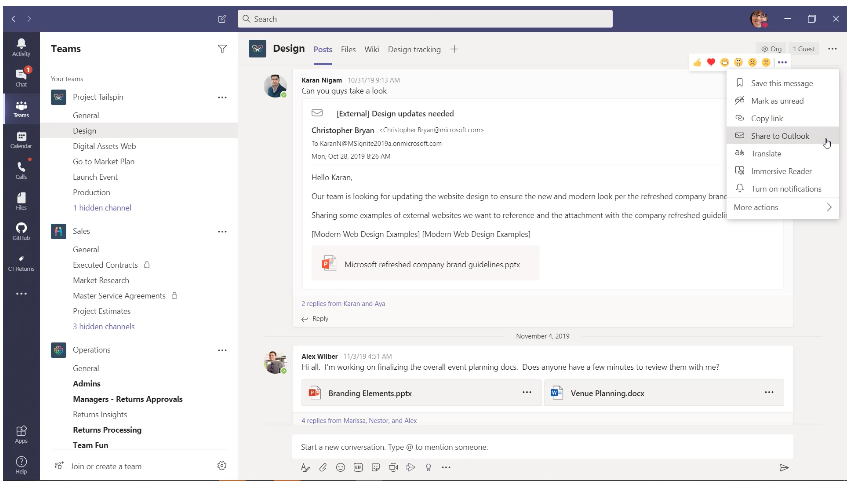 Targeted Communication
Getting in touch with the right people at the right time has never been easier. Need to message all cashiers in a store, or all heads of a certain department? Targeted communications allows team members to message everyone assigned to a specific tag. Simply @mention the tag.
Tags can be used to organise users based on a common attribute such as a role, project or location.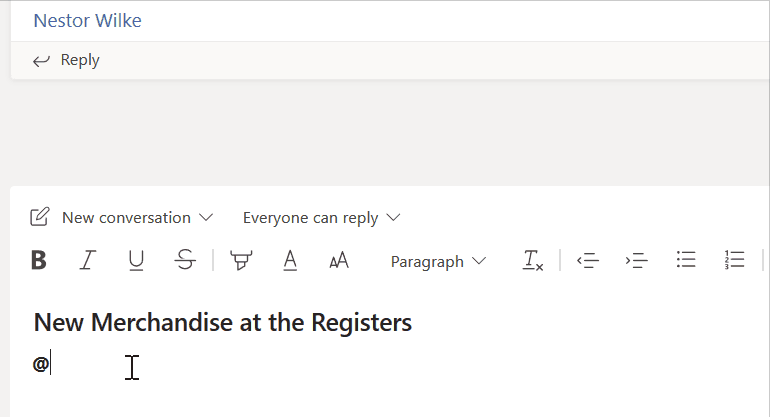 Automatic creation of an org-wide team
Streamlining the process of bringing everyone together in your SME, Org-wide teams will be automatically created for all new tenants with 5000 users or less.
Teams Files powered by Sharepoint
The new experience in the File tab of the channel includes the ability to sync files to your computer, see rich previews across 320+ file types, create views and work with metadata, see document life-cycle signals, review on-hover file cars, pin files and take actions like check in and check out.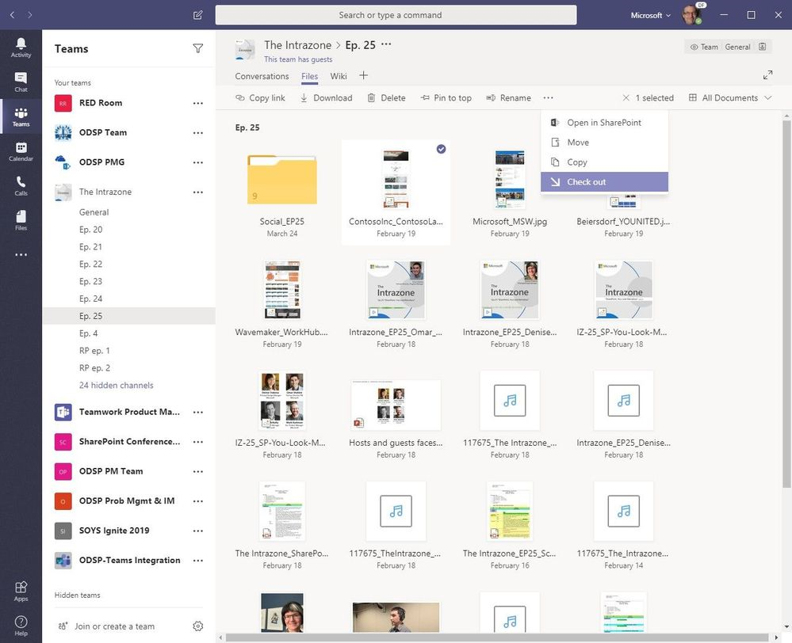 Live Captions for Calling and Meetings
Turn on live captions during your meetings and never again miss what somebody said! With remote work taking place anywhere from your home office to a crowded airport terminal live captions can help you improve the accessibility and effectiveness of meetings.
This feature is also particularly useful for those team members who are hard of hearing or deaf or those who have different levels of language proficiency.
Store recordings in-region storage when Stream is not available in Go Local

Teams meeting recordings are stored in Microsoft Stream cloud storage. Tenant administrators have an option to go to the admin center to turn ON/OFF "Allow cloud recording" setting for Teams meetings. Cloud recordings are currently not allowed/enabled for customers where Stream service is not available in the corresponding Go Local region. We are going to change the existing behavior by enabling "Allow cloud recording" and turning it ON by default. This change will store the recordings in the respective in-region data center.
Manage Apps in the Teams Admin Centre
The new manage apps page allows administrators to view all available apps in the tenant and information to help them decide which apps to enable for their organisation.
Legal Hold for Teams Private Channel Messages
Meet legal requirements by preserving information in Teams. Legal hold now supports the preservation of private channel messages.
Communication Compliance
Minimize communication risks in your organization. Communication Compliance helps administrators detect, capture, and take remediation actions for inappropriate messages.
Enhanced Power BI
We're excited to announce the new Power BI tab for Microsoft Teams. The new tab adds support for reports in the new workspace experiences, reports in Power BI apps, and paginated reports.
When the tab is added to your channels and chats, it's easier for everyone to find and track the data they need to achieve their objectives. It's also a great way to manage change in your organization. As new people join a team, the data they need is right there and ready for them to use.
Pin Your Apps to the Left-hand Rail
Access to your favorite apps just got easier. You are now able to pin personal apps to the left-hand rail (also known as the Teams app bar). Simply find the app, right-click the app icon, and select "pin". Even after you navigate away, the app icon will remain so you can easily return to it. Remember, you can also pin apps to relevant channels or chats for easy access as well!

The Teams Admin can also create group policies so certain apps appear on everyone's Teams app bar.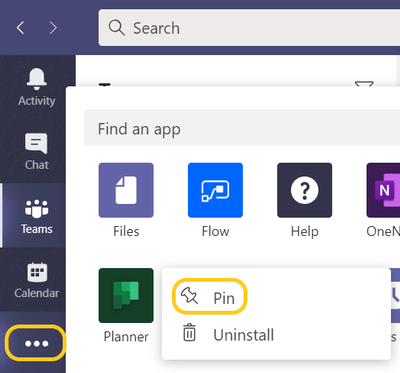 Why Wavenet?
Enable external voice calling from within your Microsoft Teams client securely and efficiently with TeamsLink from Wavenet. Make and receive UK, international and mobile calls even with non-Teams contacts with reliable and cost-effective calling bundles.
TeamsLink and Microsoft Teams will give you the power to boost your business into a high-performing, collaborative team allowing you to share files and collaborate on working documents in real-time, with instant messaging built directly into the platform.
TeamsLink gives your business the ability to easily hold online meetings, with your team, or even your customers and prospects no matter where you are. Even if you miss the meeting, have to leave early or have arrived late, you can easily listen to the meeting in your own time as Microsoft Teams can store the recording for you.