Another busy month of exciting new Teams features, we've rounded up our favourite
May sees some great new rollouts for Meetings, Webinars and the Mobile App. Here's the feature we've been loving this month!

Meetings
Breakout Rooms

Organisers can now reassign participants even when rooms are opened. Previously, you could only reassign when rooms were closed. Breakout room assignments also now persist over multiple sessions. These features are useful for efficiently managing discussions and ensuring the right participants are in each breakout.
Invite-only Meeting Options

A new meeting setting is now available in Teams meeting options that automatically sends those who were not originally invited to the lobby. For example, if an invited member forwards a meeting invitation to a colleague when that person tries to join, they'll be directed to wait in the lobby until the host selects to admit them. This helps provide a secure meeting space where no uninvited participants can join without approval.
Meeting Polls

Teams introduces advanced capabilities for polls including expanded options, intelligent suggestions and analytics. Attendees and guest attendees can now participate in polls on mobile devices. Also, discover intelligent poll suggestion for pre and post-meeting follow-ups.
Custom iOS Backgrounds

Custom backgrounds are now available on iOS. Select from Microsoft provided backgrounds or one of your own directly from your iOS mobile device. Perfect for adding your personality to your meetings.
Enhanced Meeting Policies
Enhancing the security of Teams meetings, Microsoft has introduced an ability that means join links are disabled for any user whose permissions have been revoked.
Previously, a user could continue to reuse their old meeting join links after their scheduling capabilities have been disabled. This policy update automatically expires those old meeting links so they can't be reused.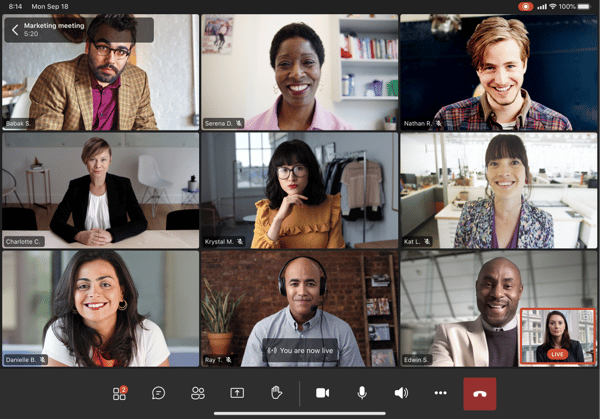 Chat and Collaboration
Windows Native Notifications
Customisation just got even better for Teams, you can now choose built-in Teams notifications or Windows native ones. Helping you make Teams your own. The latter brings a hostof benefits, like respecting focus assist mode which enables you to avoid distracting notifications when you need to focus, and integrating with Windows 10 action center to helps you review your notifications in one place. If you have a Windows build 10.0.17763.288 or higher, you can make this change in Teams notifications settings.
Preconfigured Website Tabs
As an admin you can now add a URL of their choice to the website tab in a team template. When the end-user creates a team using the pre-built template, it will include the preset website you specified. This makes it easier to share your company website, intranet or SharePoint site to all employees, making accessibility easier for everyone.


Communicate and Collaborate Anytime, Anywhere with TeamsLink from Wavenet.
Enable external voice calling from within your Microsoft Teams client securely and efficiently with TeamsLink from Wavenet, the remote working hero. Connecting inbound and outbound calling directly through Microsoft Teams. Make and receive UK, international and mobile calls even with non-Teams contacts with reliable and cost-effective calling bundles.
TeamsLink and Microsoft Teams will give you the power to boost your business into a high-performing, collaborative team allowing you to share files and collaborate on working documents in real-time, with instant messaging built directly into the platform.
TeamsLink gives your business the ability to easily hold online meetings, with your team, or even your customers and prospects no matter where you are. Even if you miss the meeting, have to leave early or have arrived late, you can easily listen to the meeting in your own time as Microsoft Teams can store the recording for you.