A new month and a host of new Teams features ready to rollout.
Here's our roundup of April's new features for Teams. Some great new functionality in meeting's helps you be more productive than ever before.

Meetings
Meeting recap

Meeting recap helps teams stay on track and keep their work moving forward after the meeting is over. It includes meeting recording, transcript, chat, attached files and more. The recap is shared with participants in the meeting Chat tab and viewable in the Details tab. Those who missed the meeting, joined late, or want to revisit what was discussed, can play the recording, or review the transcripts respectively.
Meet Now in Outlook client for Windows

Users can now start an instant Teams meeting from the Calendar tab in Outlook for Windows by clicking Meet Now. To enable this feature, tenant admins just have to set the Allow Private Meet Now policy option to True in the admin console.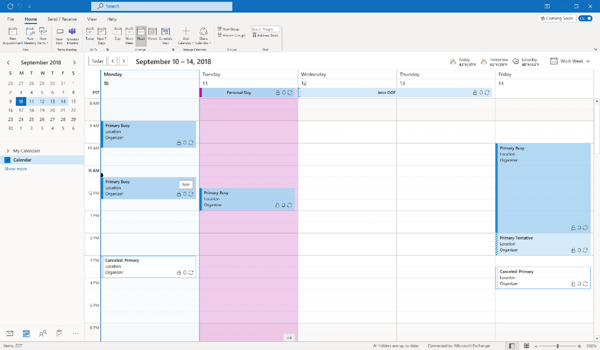 Get a Meet Now meeting link from the Calendar

Users can now copy a Meet Now meeting link from the Calendar and share it out with others without starting the meeting. If you are in an email, chat, or channel conversation and agreed to meet at a certain time, this is an easy way to copy a meeting link and paste it into the conversation.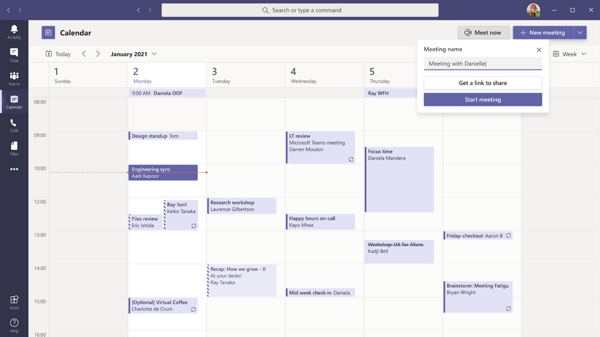 Touch Bar meetings controls on Mac

MacBooks with Touch Bars now have Teams Meeting controls that quickly allow users to access controls without clicking into the window. Users can open the 'view participants' panel, open meeting chat, use raise hand, enable video, mute/unmute, open shared tray, and leave the meeting from one place.

Live Event presenter for iPad
Sales teams, executives, and other iPad users now have the ability to present live in Teams Live Events. Just open the Teams for iPad app, join the Live Event as Presenter and broadcast your video or screen share to your audience.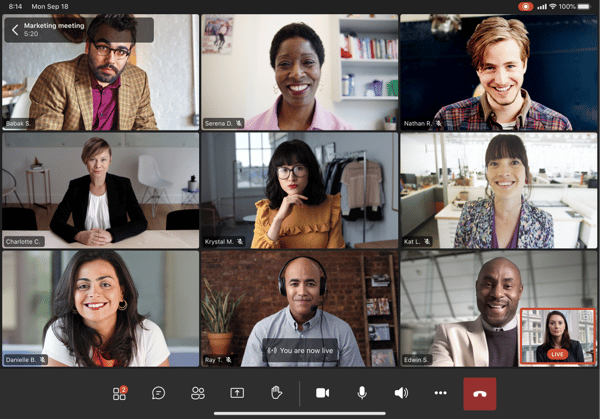 Chat and Collaboration
Voice-enabled channels

Voice-enabled channels allow connecting a call queue to a channel in Microsoft Teams. Users can collaborate and share information within the channel while taking calls in the queue. This feature is ideal for scenarios such an IT help desk or HR hotline. IT admins can quickly connect call queues to specific channels, and team owners can manage the settings.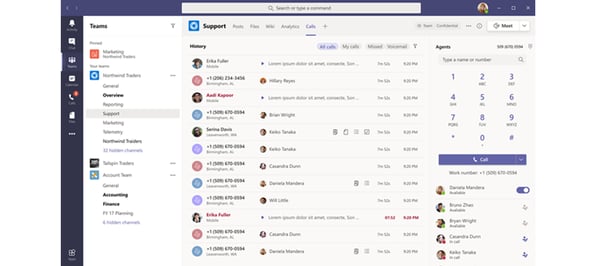 Balance productivity and wellbeing with Microsoft Viva Insights

Viva Insights gives individuals, managers, and leaders personalised insights and actionable recommendations that help everyone in an organization thrive. This new app - discoverable directly in the Teams app bar by selecting the ellipsis (…) - makes it seamless for users with Exchange Online mailboxes to strengthen relationships with key people, follow up on to-dos, and protect focus time to work uninterrupted. For Workplace Analytics customers, manager and leader insights provide visibility into the impact of work patterns on people and the business and can help identify where a change in team and organisational norms could improve wellbeing and business outcomes. Personal insights are visible only to the individual, and for manager and leader insights, customers can rely on safeguards like de-identification, aggregation, and differential privacy by default.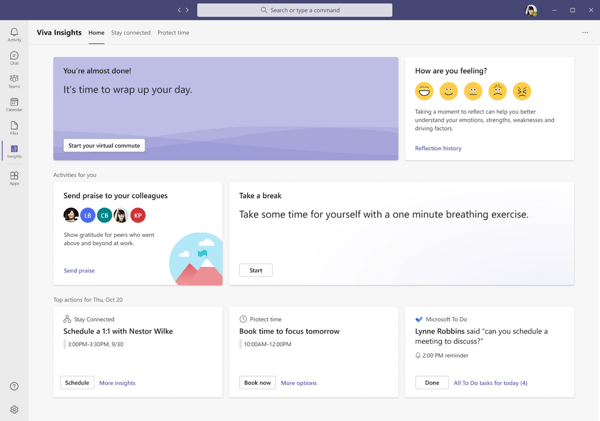 Communicate and Collaborate Anytime, Anywhere with TeamsLink from Wavenet.
Enable external voice calling from within your Microsoft Teams client securely and efficiently with TeamsLink from Wavenet, the remote working hero. Connecting inbound and outbound calling directly through Microsoft Teams. Make and receive UK, international and mobile calls even with non-Teams contacts with reliable and cost-effective calling bundles.
TeamsLink and Microsoft Teams will give you the power to boost your business into a high-performing, collaborative team allowing you to share files and collaborate on working documents in real-time, with instant messaging built directly into the platform.
TeamsLink gives your business the ability to easily hold online meetings, with your team, or even your customers and prospects no matter where you are. Even if you miss the meeting, have to leave early or have arrived late, you can easily listen to the meeting in your own time as Microsoft Teams can store the recording for you.