Get creative and host a virtual Christmas party this year. Read on for some top tips for inspirational interactive parties.
We may not be able to be together in a traditional sense this year, but it doesn't stop us having some virtual fun. Read our blog for some hints and tips on how to make your virtual Christmas party one not to be missed!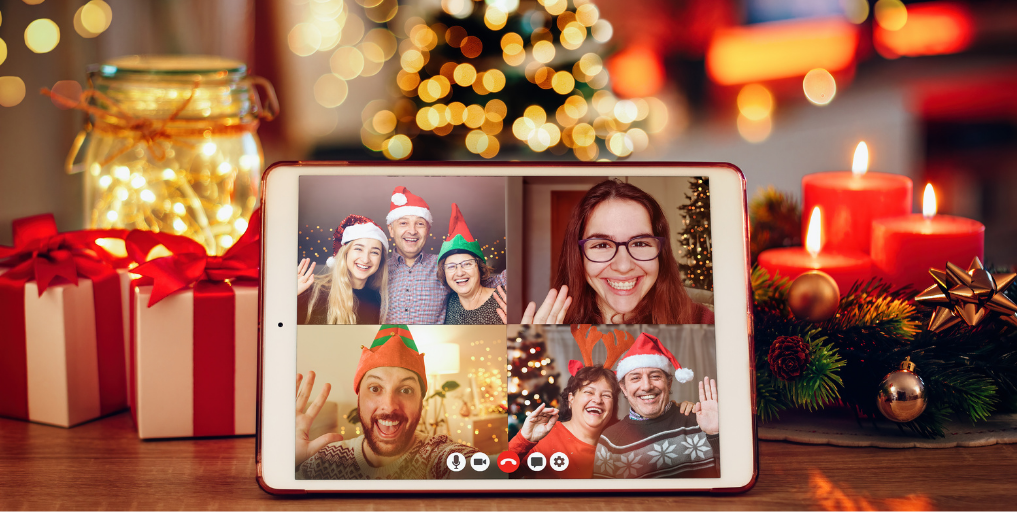 Eat, Drink and Be Merry
Ahead of your party send out a menu with the food and drinks you can enjoy together. You could even list the ingredients and for a really fun interactive activity you could bake some biscuits or mix a cocktail, lead by your nominated mixologist or head chef.
There's even online cocktail making classes who will send you ingredients and then teach you how to make your perfect cocktail step-by-step.
Make it Snappy
Guaranteed to give everyone a good laugh recreate a party photo booth using Teams. Get everyone to find some silly props - feather boas, sunglasses, tiaras and silly outfits, get your best poses on and take some screen shots.
You can even get everyone to set their backgrounds to the same image for your photos.
Get Together (mode)
Together mode can really help you feel more connected to your team and with new Christmas themed scenes why not a dash of Christmas spirit to your meetings! Perfect for virtual christmas parties.
>> Click here to find out more about Together mode. <<
Breakout
Breakout rooms are a great way to split your virtual party up into smaller groups. This might be for games or icebreakers if you have large groups.
>> Click here to find out more about Breakout rooms. <<
Let's Get Quizzical
Party games are the cornerstone of any Christmas party and thankfully Teams lends itself perfectly. We've even compiled a list of the perfect games to play when using Microsoft Teams.
From quizzes to charades it's easy to play your favourite games.
PowerPoint Parties
Christmas parties are the chance to mix and mingle with people outside of your immediate work team. Breakout rooms in Microsoft Teams are the perfect way to do this virtually, splitting people up into smaller groups and giving them chance to get to know each other.
A popular trend is the PowerPoint party. Break your team into groups of three of four and ask them to create the funniest presentation they can think of in just 15 minutes. The winning team gets a prize.
Secret Santa
Take your Secret Santa online and have a virtual exchange, simply pop your present in the post and open them all on your Microsoft Teams Christmas party. Then try to work out who bought which present!