It's without a doubt that Microsoft Teams is now the 'go-to' UC platform, with staggering worldwide adoption statistics backing up its popularity and user-friendly interface it's easy to see why.
But what makes Teams truly powerful is its ability to seamlessly integrate with other platforms such as Mitel, providing powerful, limitless communication tools for business.
Recently, Microsoft introduced a Teams-based telephony system with two broad offerings based around Office licensing.
Mitel has long been established as a leading provider of enterprise-grade telephony systems with a wide product offering including omnichannel contact centres, AI integrations and standard IP telephony.
Microsoft Teams Telephony
Using Microsoft Teams as a phone system, you can create a powerful PBX with all the standard telephony features such as making and receiving calls, call transfer and holding.
What's more, you can use Microsoft Teams telephony with physical desktop phones, a softphone, headset or the Teams mobile app. To make and receive external calls (outside of Teams users) you will need either a Microsoft Calling Plan or Direct Routing.
To provide Direct Routing, Wavenet connects your Microsoft Teams users to the Public Switch Telephone Network (PSTN) through a Session Border Controller (SBC). The SBC is connected via SIP) trunks and a range of Direct Dial Inwards (DDI) numbers to facilitate making and receiving external calls.
TeamsLink, unlike a Microsoft Calling Plan, includes unlimited UK minutes and no call setup charge - providing much better value and more flexibility. You can also take advantage of International DDI for 127 countries and International Outbound In-Country Dialling for 33 Countries.


Why connect Microsoft Teams and Mitel?
There are three main reasons for wanting to connect Microsoft Teams and Mitel.
Firstly, integrating Microsoft Teams with your existing Mitel system provides protection on your investment, increasing the flexibility and mobility of your current system.
Secondly, if you are looking to make a full migration to Microsoft Teams at some point in the future, a hybrid solution can help with user adoption, making sure everyone is comfortable with the new platform before Mitel equipment is phased out.
Thirdly, to be able to provide specialist facilities such as an AI-powered omnichannel contact centre on a Mitel platform that is integrated with the rest of an organisation that is using Teams.

Wavenet Expertise
Wavenet has over 20 years of experience in voice technologies working with businesses across the UK to deliver high-quality, reliable voice and phone systems. With TeamsLink we have partnered with Microsoft to create a platform that provides on-net, high-quality traffic through diverse routes to give your business the ultimate unified communications foundation.
This set of skills and experience, uniquely lets Wavenet deliver tight, seamless integration between Microsoft Teams Telephony and Mitel Telephony.

Teams as a Softphone
In this scenario, all telephony features are provided by the Mitel system. Users can make and receive calls, put calls on hold, forward them by using any device including a Mitel phone, a PC or laptop or on a mobile phone. Any Microsoft Teams calls initiated on a mobile phone will be routed out through the Mitel system.

Hybrid Solutions
In this scenario, the organisation has a Microsoft Teams phone system and a Mitel phone system. The Mitel may either be a legacy system or a system that is providing a specialist service such as an omnichannel contact centre if. Both systems make and receive external calls through the same SIP trunks and the DDIs. The TeamsLink integration means that users, whatever system they are connected to, can also make internal calls and transfer calls allowing, for example, contact centre agents to engage directly with the appropriate department or individual.
Communicate and Collaborate Anytime, Anywhere with TeamsLink from Wavenet.
Enable external voice calling from within your Microsoft Teams client securely and efficiently with TeamsLink™ from Wavenet. Connecting inbound and outbound calling directly through Microsoft Teams. Make and receive UK, international and mobile calls even with non-Teams contacts with reliable and cost-effective calling bundles.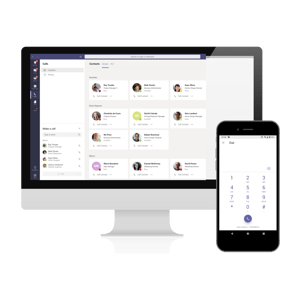 TeamsLink and Microsoft Teams will give you the power to boost your business into a high-performing, collaborative team allowing you to share files and collaborate on working documents in real-time, with instant messaging built directly into the platform.
TeamsLink gives your business the ability to easily hold online meetings, with your team, or even your customers and prospects no matter where you are. Even if you miss the meeting, have to leave early or have arrived late, you can easily listen to the meeting in your own time as Microsoft Teams can store the recording for you.