Secure Remote Work
With more of us working remotely than ever before, it's important to know how to remain safe and control access to sensitive business data.
M365 can help support your organisation and it's employees by enabling secure remote access and protecting identity. A data breach can have disastrous consequences and with remote working, these can be harder to detect.

Microsoft 365 can help remote work with securing identity and controlling access;

Protect against lost and stolen passwords.
Secure access to work apps.
Enable remote desktop access.



Protect Against lost or stolen passwords
M365 provides enhanced protection against lost or stolen passwords with MFA (Multi-factor Authentication) helping to verify user identities.
M365 supports a wide range of MFA options from SMS to biometrics and OTP.
Work apps can be further secured with Azure Active Directory, an enhanced layer of protection perfect for home working setups.
Enabling your employees to remotely access on-prem apps without opening broad access to your network
Control "where, when and who" connects to your Office apps with Conditional Access
Reduce IT overheads with Dynamic Groups and automatically add or remove users to security groups
Enable remote desktop access
Windows Virtual Desktop allows you safe and secure remote desktop access wherever you may be working from.
Multi-session Windows 10 experience
Enable optimisation for Office
Deploy in minutes, fully scalable and managed within a simple user-friend portal
Support any end-user device platform including Mac, Android, Windows, iOS and HTML 5
M365 helps you enable and empower your workforce. Supporting a secure and compliant remote working model.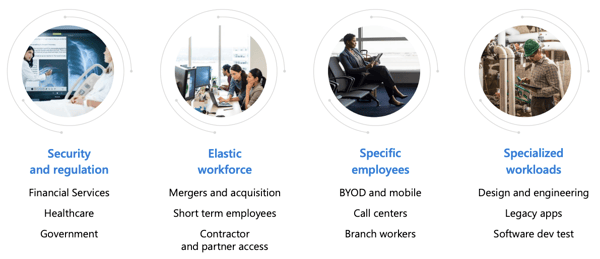 Over the past few years Microsoft has become one of the largest security providers in the world, investing more than £1 billion per year in security research and development.
Microsoft's security values
Whether your business is big or small, M365 offers complete peace of mind.
Microsoft underpins it's security with five pillars.
Threat intelligence: The world's largest set of threat-related optics

AI-powered: Advanced data science turns signals into actionable intelligence with the Security Graph

Team of experts: Global cybersecurity force working to combats attacks

Enterprise-grade: Powered by the same technology built for the world's largest businesses

Save Money – by integrating security and identity and access management controls into you M365 subscription