BYOD security
Remote working has brought with it challenges that many businesses haven't experienced before, with many employees now needing to use their own devices.
With cyber-attacks on the rise, it's important that you can safeguard your company data and ensure the devices used to access it are secure.
M365 can help support your business and its employees to provide safe and secure access to business data whilst using their own devices.

Manage work data on Mobile devices
Intune can help you safely manage the data stored on mobile devices, providing both Mobile Device Management (MDM) and Mobile Application Management (MAM) across all devices used by employees.
Mobile Device Management
Conditional Access: Manage access to company-owned devices
Enrol devices for management


Provision settings, certificates and profiles


Report and measure device compliance


Remotely remove corporate data from devices
Mobile Application Management
Conditional Access: Manage which apps can be used to access work email or files on personal devices
Publish mobile apps to users


Configure and update apps remotely


Enforce work data policies


Secure and remover corporate data within mobile apps

Secure Windows
Defender and Intune can help you protect your Windows devices.
Require automatic updates on all Window 10 devices


Enforce Microsoft Defender protection against malware


Require use of Bitlocker encryption to prevent unauthorised access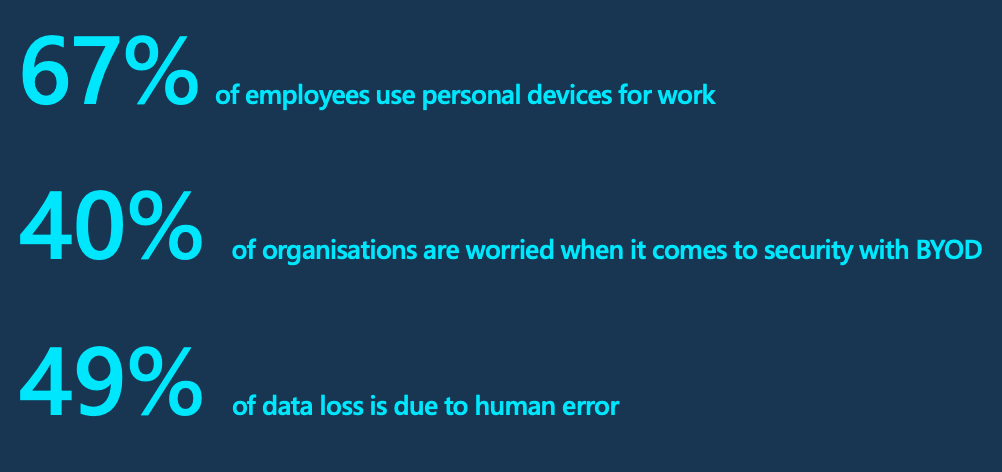 Every business needs to consider how they manage BYOD, securing devices and data is paramount to working safely outside of the office environment.