Digital data continues to grow at a staggering pace and with business data stored both on-prem and in the cloud, companies struggle to regain control of their data.
With organisations having hundreds of Terabytes and even Petabytes of on-prem data, as well as data being hosted in the cloud a hybrid approach is required to control data.

Driven by increasing compliance legislation, internal policy and business need organisations must have a full view of their data.

Responding to growing demand, The Enterprise File Fabric provides a solution to this problem. Offering organisations a way of managing and accessing their data through a single pane of glass view, whilst simultaneously allowing for policy-based restrictions to be set in order to comply with legislation such as GDPR.

Deployed on-prem or in the cloud, The File Fabric is a multi-cloud solution to the unification, compliance and control of your data.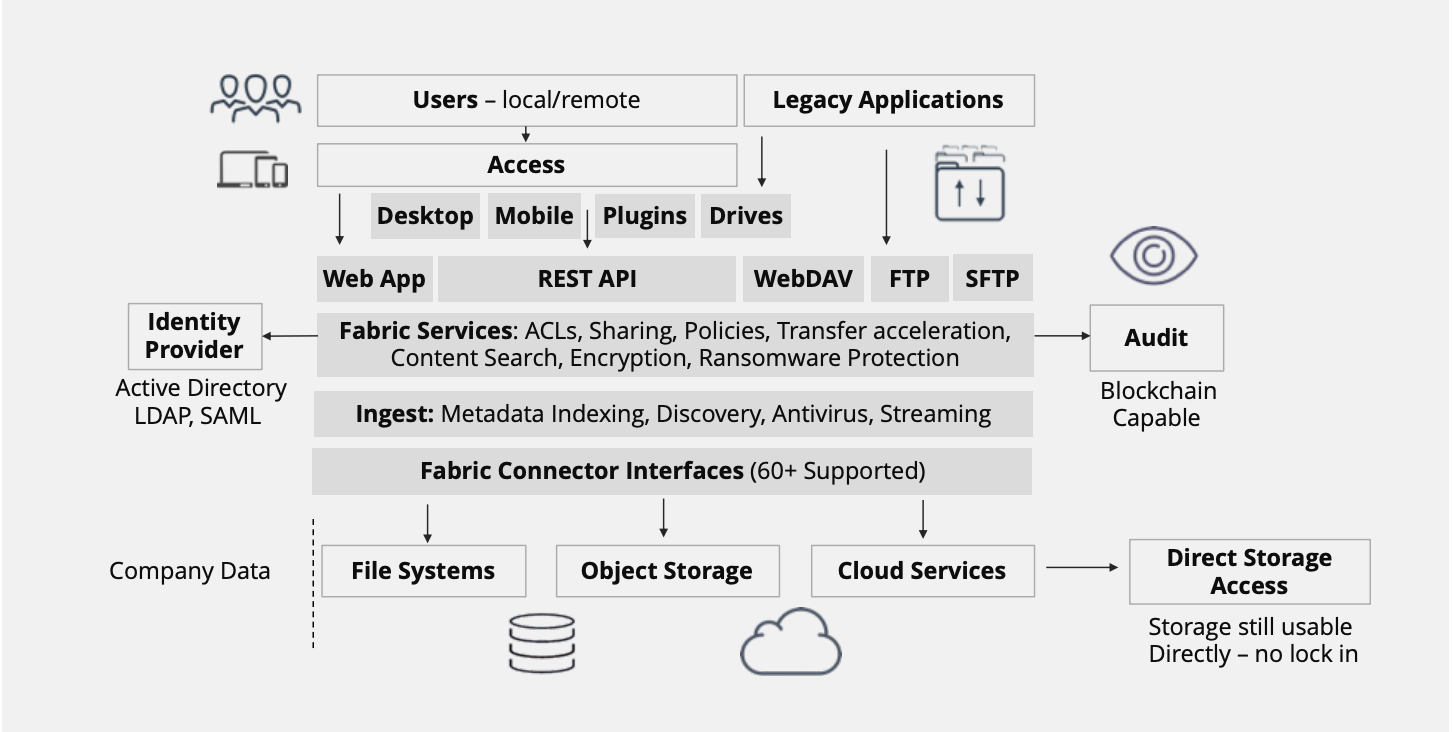 ✓ Multi-Cloud Content Management
✓ Storage agnostic
✓ 60+ connectors
✓ Federated Identity support to facilitate SSO (LDAP, AD, SAML)
✓FIPS Certified encryption
✓ Unified Data Governance and Compliance (GPDR, HIPPA, California Privacy)
✓ Ransomware protection (Active Archive)
✓ Content Discovery (inc. PII Data Detection)
✓ Unified File Content Search
✓File Transfer Acceleration (Up to 10x)
✓ Multi Channel (Web, Desktop, Mobile)
✓ Content Collaboration
✓ Meta-data indexing and Data Cataloguing
✓ Ultra-secure file sharing and file transfer
Policy and Governance

The File Fabric provides enhanced security and prevents storage supplier "lock-in" with an easy way to move data between service providers and includes features such as "Active Archive" which help to mitigate against Ransomware attacks.

Also providing encryption for remotely stored data, the File Fabric can protect data in the event of a breach by a service that is outside of the companies control. Providing ultra-secure file sharing across all supported endpoints in which a file link is used. These file links offer the added benefit of being audited, password-protected, time expired and download limited.

Manage Data Sprawl

Previously companies would use one single place for data storage but as technology has progressed this is no longer the case. Multi-cloud adoption presents increasing difficulties for companies to maintain their data, set policies, maintain compliance, manage costs and ensure safety.

The File Fabric provides a single pane of glass view for all data, allowing for ease of management. From within the File Fabric, it is easy to search across data sets, set rules for data residency and policy-based retention.

Connecting to leading storage providers such as Google Drive, O365 and DropBox and plugging into new Enterprise AI services such as Google Vizion, IBM Watson and Amazon Rekognition which allows users to add more intelligence to existing data.

Multi-cloud Content Collaboration

The File Fabric enables smart content collaboration through its hybrid integration of clouds that host digital content. The File Fabric is able to do this on the cloud, on-prem or a combination of both.

The File Fabric's content intelligence, provided by indexing of content and metadata, coupled with data automation and retention rules, provides secure digital content collaboration between teams and companies both internally and externally.

Many companies use file productivity applications such as Google Drive, O365 or DropBox as well as other storage based repositories such as SharePoint, FTP, NAS/SAN, or increasingly, Object Storage. Operating independently, these storage solutions act as silos which can increase complexity, reduce productivity and may cause issues with location critical data or providing the user with out of date information.

The File Fabric provides centralised control to enable a cohesive approach to work with disparate content repositories enabling workflows to be streamlined and productivity to be increased.

File Fabric for Big Data and Media Services

A common problem for companies that embrace full Cloud or Hybrid-Cloud strategies is speed. The speed of data transit both to and from the cloud can cause problems. The Fabric solves this problem by parallelising and accelerating data which results in faster, snappier access to content.

Content transfer can be vastly accelerated from desktop to cloud, cloud to desktop or even cloud to cloud.

The File Fabric M-Stream (multiple streams) feature targets three areas for large file acceleration:



High-speed transfer from primary storage to archive storage and vice-versa.


High-speed transfer from desktop to the cloud and vice versa.


High-speed transfer from Cloud-to-Cloud.

In addition to this the Enterprise File Fabric has specific media feature enhancements:

✓ A single namespace of dispersed media assets.
✓ Easy creation of proxies (thumbnails).
✓ Metadata mining and cataloguing of media content (including integration with AI services such as Google Vision for intelligent data cataloguing).
✓ FIPS encrypted delivery of media files.
✓ Future Integration with MAM's like Avid for end-to-end media workflows.
Why Wavenet?
Based on client requirement, we can offer traditional disk-based storage systems and flash-enabled arrays to help set new standards of application and database performance.
Proving effortless acceleration and consolidation for all workloads, Wavenet storage solutions present comprehensive data protection, and true hybrid cloud operations.
Bring the next-gen power of shared accelerated storage to your data with data-centric storage solutions from Wavenet.