Inbound Call Management the Way it Should be Done
Wavenet helps businesses maintain their customer service when normal working practices aren't possible.
Businesses can re-direct or move their telephone numbers to our Myriad cloud inbound platform, enabling the following:
Auto-attendant and Interactive Voice Response
Intelligent incoming call routing – delivering calls anywhere to any device
Calls queueing at times of increased demand
Hunt Groups enabling distribution of calls across teams
Conferencing
Call recording
99.9% Service Availability backed by robust SLA's
instant re-configuration through web-based management portal

This extensive functionality is further enhanced with a wealth of statistical information that can be used to report on call activity, run ad-hoc and scheduled reporting and view real-time reports via the dynamic dashboard.
Why choose the Myriad Platform?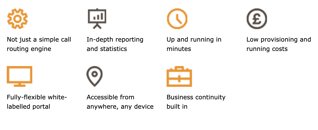 The Myriad platform outperforms all rivals in the marketplace. Not only does it provide base-level call routing, the rich feature set delivered over a network-integrated platform make it perfectly customisable whatever your business needs.
Myriad is also continuously updated based on your feedback, ensuring that your inbound call solution is always exactly what you need it to be. Providing you with market-leading features and functionality.
Advanced features mean that Myriad has been the first choice for inbound call solutions for over a decade. Myriad is the complete solution for inbound customer contact and call management.

Customer service is the backbone of your business, getting it right is vital. Failing to deliver on expectations can impact the reputation of your business and lead to lost revenue.
Wavenet, partnered with KCOM recognise that inbound calling is at the heart of many businesses and is a direct link to your customer.
Offering an advanced inbound solution, Myriad allows you to provide a seamless and robust customer service experience whether the challenges your business faces are flood, fire or viral outbreak.
Why Wavenet?
Increasing levels of online risk, coupled with the growing implications of network and data breaches, make investment in IT security a business essential.
Built to meet the needs of your business, Wavenet's IT security and compliance solutions provide the ultimate protection against current and emerging online threats.
Our Cloud-based security solutions are managed 24/7, guarding your business against devastating cyber-attacks and data loss, while giving you the power to control what your employees see and do online.
Make your business brilliant, today and tomorrow, with security and compliance solutions from Wavenet.