How can Unified Communications benefit the Public Sector and why is it worth considering implementing into your organisation?
First of all, what is UC?
Unified Communications is a way of enabling your organisation to join all your communications services under a single provider so that they work seamlessly together.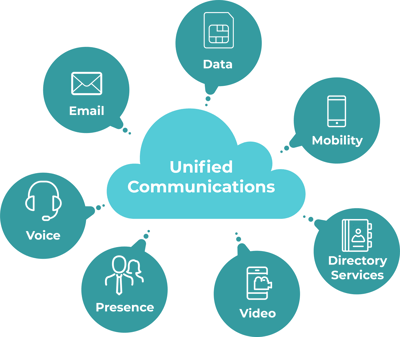 How can implementing UC improve your Public Sector Organisation?
There are many UC benefits, from improved customer service, increase in productivity, cost savings which are advantageous to your organisation and giving public sector citizens a better experience.
We can outline key points on how Unified Communications will impact Public Sector Organisations positively:
Cost Reduction
Making use of Voice over IP technology, Unified Communications can integrate different communications platforms. Differing from traditional telephones or PBX which are generally reliant on the rental of analogue phone lines from a service provider.
Not having line rental costs on your bill significantly reduces recurrent operating costs of your phone system.
It enables a remote and mobile workforce
Working remotely from home has become increasingly popular within organisations and with employees. Unified Communications enables remote working through VoIP phone systems which allow contact as long as you have an internet connection.
Less Administration
Your business needs can be met with one communication provider in some cases resulting in a reduction of account managers, technical support numbers, bills and contracts to be concerned about. Leading to streamlined administration of all communications with an easy to find, common point of contact.
Wavenet aggregates your services into one single bill with one point of contact.
Improved productivity and efficiency
It's easier for people to finish tasks and do their job when communications are unified. Re-routing incoming calls to wherever you are or whatever device you are using such as office phones, mobile phones and phone applications on your computer, ensures that you don't miss important calls.
Improved customer service
Unified communications improves customer service by allowing interaction via your chosen channel, whether email, online chat or traditional phone. Alongside this directing incoming calls to the correct person is very important to improve their experience and resolve the issue as fast as possible.
Unified Communications can ensure the correct person is still contactable even when they are away from their desk, by redirecting a fixed number to a mobile device they are using.
We deliver the right solution
We understand the Public Sector, so Wavenet has an established Unified Communications portfolio to ensure we deliver the right solution, managed properly. As we are partnered with all major networks, we offer cost-effective, customer-focused, and locally supported service.
Wavenet's inclusion on the RM3808 framework allows us to deliver these solutions with a commitment to improving services, productivity and efficiency whilst supporting you in your digital transformation.