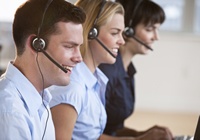 Poor customer service experiences can quickly turn viral and damage a company's reputation, and untested infrastructures can lead to significant losses of loyal customers and sales. Traditionally, enterprise contact center managers have not had the necessary tools to actively test how their infrastructures will hold up under real-world conditions, and capacity testing was largely ignored. Sporadic testing coupled with the increasing use of TDoS attacks meant that costly downtime was inevitable.
Response can help.
"By providing an easy-to-use way of validating critical customer service infrastructures at load, Ixia's Chariot Contact Center solution answers a growing and important need for today's enterprises."

The new Chariot Contact Center, from Ixia, is based on the award-winning IxChariot network assessment technology, and enables enterprises to proactively assess the performance, scalability and security of their IP communications infrastructures at any load. The Chariot Contact Center solution's fast, easy-to-use testing validates the reliability of contact center networks and mitigates current infrastructure concerns. The resulting actionable insights enable an enterprise to know, not guess, how the contact center will respond during the most important customer engagement seasons and the times most vulnerable to malicious attacks.
The powerful Ixia Chariot Contact Center solution offers an intuitive web-based user interface with drop-downs and form-fills that use common call center terms to guide users through test case creation, deployment and reporting. Providing medium to massive-scale, high-fidelity simulations of protocols and caller traffic, the solution combines the needed capabilities to:
Validate IVR menus.
Test automatic call distributors.
Model contact center traffic.
Verify emergency call systems and robot calls.
Validate threat-blocking policies.
Measure quality of experience.
Check out Ixia's video -
Voice Security Testing in a SIP Contact Center
For a Quick Reference Guide to Ixia's Chariot Contact Centre Solution, Click Here.
For more resources about Contact Centre Solutions from Response, check out our Free Whitepapers Section on our website.