Denwa are launching Mitel's latest Cloud Communications solution - MiCloud Office - through a series of live webinars over the coming months.
Join #TeamDenwa for a great opportunity to explore MiCloud Office's capabilities and find out how it could revolutionalise your customer experience, staff productivity and collaboration. There are four opportunities to book on a webinar, with the first one kicking off on Tuesday 12th April at 10am.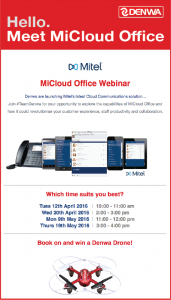 The webinars are succinct yet thorough, and show-off the features and benefits of the new solution, going into detail around the different phone models and apps available, delves into the Analytics function, and explains how you can customise the communications platform to really maximise its full potential for your business… and then something everyone's interested in – how you can save money on your telecoms bill by an average of 37%!
After the webinar there will be opportunity to field questions to our technical gurus who will happily answer any queries you may have.
If that's not enough… anyone who books a place on a webinar will be in with a chance of winning a Denwa Drone! These zippy little things are the perfect desk companion, soar it round your office and capture live video footage as it goes.
---
"The webinars are a great way for people to get to grips with this amazing new release from Mitel. You can experience it first hand and find out about a bunch of fantastic features along the way."

Neil Tennant, Head of Cloud Services
Take your sneek peek at MiCloud Office on the front row, and be in with a chance of winning a Denwa Drone. There's space for up to 100 people per webinar and it's first come first served, so don't hesitate – BOOK NOW!