A new Government law kicks in on 16th May 2016 that will stop direct marketing companies from hiding behind their 'withheld' numbers when cold calling. If they continue to hide their numbers, they could face fines of up to £2 million imposed by Ofcom.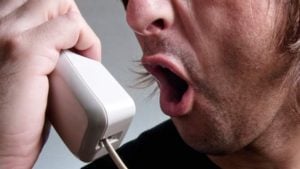 One fifth of all calls comes from a withheld number – some company trying to get you to pick up the phone so they can try to sell you something… The population of the UK are getting sick of being bombarded by nuisance calls, so much so that the Government is now making it illegal for UK companies to hide their numbers when calling their unsuspecting victims (this even applies to those with overseas calling centres).
This new law will help protect consumers, allowing them to see who's calling them, so they can decide whether to pick up the phone or not. It will also allow them to make a formal complaint to the company who are issuing the calls, if they feel they are being harassed. Further enforcement will come from the regulatory body 'The Information Commissioner's Office' (ICO) – they'll be able to monitor who's breaking the rules. Any company found making calls using 'withheld' numbers could be on the receiving end of up to a £2 million fine from Ofcom, and a further £500,000 fine from the ICO.
"We do investigate unscrupulous companies who hide their identities, and we can track them down. (...) When people are able to identify the number behind the call they have received they are more likely to complain and that means we are able to take action."

Steve Eckersley, Head of Enforcement at the ICO
Following the results of a public consultation and the views of regulators and various consumer groups, the new legislation was given the backing it needed to get underway, and it's the Government that are the driving force behind making it an imminent a reality.
"Nuisance calls are incredibly intrusive and can cause significant harm to elderly and vulnerable members of society. (…) We're sending a clear message to rogue direct marketing companies. Nuisance calls are unacceptable and we will not hesitate to take action against the companies behind them."

Baroness Neville Rolfe
So the UK will soon be protected against nuisance calls – well they'll at least be able to tell when one is incoming and choose to ignore or report it. Great news for all of us!
Further information:
http://news.sky.com/story/1684141/fines-for-cold-callers-using-withheld-numbers
http://www.lbc.co.uk/fines-for-cold-callers-using-withheld-numbers-129264
https://www.gov.uk/government/news/cold-callers-to-be-forced-to-display-phone-numbers-under-new-government-plans