Why Solar Seamless Connect is the obvious choice in bridging the gap for a complete, Unified Communications solution
Effective communication is the bedrock of any civilisation, and communicating over long distances is what has brought civilisations and communities together, facilitating the advancements we enjoy today.
Whether it was messengers on horseback, the use of carrier birds, or even Native Americans wafting smoke into the ether, all have been necessary for human beings to interact and ultimately lay the foundations for a developed world.
Today we are spoilt with an array of instant communication tools; mobile phones, text messaging, email, bluetooth, social media, video-calling, all working together to create a world more connected than it has ever been in human history.
For businesses, these tools are all critical in ensuring that commerce can be completed quickly and efficiently. However, managing so many lines of communication can be difficult, not to mention costly. Demand therefore has grown for solutions that bring all these lines of communication into one, user-friendly interface.
Skype for Business
A tool which has grown exponentially in popularity as a means of workers quickly connecting with customers, across a company, and indeed across the globe, has been Skype for Business (SfB). SfB boasts a selection of features allowing businesses to operate more efficiently; seeing in real-time when someone is available, in a meeting, presenting, providing industrial strength security for calls, or broadcasting a meeting online to a large audience. It is also fully integrated with the Microsoft Office package. SfB, however, is not without its limitations.
For outbound calls, the user is restricted to only making calls to other SfB users, and for inbound calls, the service doesn't route to DDIs. Call groups, which are commonly used for busy teams or departments so calls can be answered by multiple people are not supported, with SfB only allowing for dialling an individual. Routing inbound calls to the right department, which is a must for delivering great service and reducing time wastage, is not currently achievable with SfB, and there is no Interactive Voice Response (IVR) system e.g. 'press 1 for Sales, 2 for Support etc.
As impressive the uptake in SfB has been, these pain-points have left many users yearning for an alternative, one which still encompasses the great features of SfB, but which addresses these shortcomings, to provide a Unified Communication system which is easy to use and comprehensive in its feature-range.
Solar Seamless Connect
Answering the call, has been Manchester-based UC provider and Microsoft partner, Solar Communications. Boasting a product development team famed for ingenuity, their latest innovation Solar Seamless Connect (SSC), has once again disrupted an already capricious industry.
SSC provides a unique bridge between a business' enterprise telephony platform and the Microsoft user interface their employees know and trust. With SSC, users can deploy SfB as a single UC solution without compromising on the powerful features and robust functions of an enterprise communications platform.
At whatever stage a business is at on their journey to the cloud, SSC enables a low risk approach to migrating business communications, leveraging the many benefits of cloud technology, whilst allowing for integration with existing infrastructures.
It is by taking a closer look at the individual features of SSC however, that it becomes clear why adoption of this game-changing product escalates by the day.
A closer look at SSC bridging the gap
To begin with, we'll examine the key solution benefits to implementing SSC. We'll then look at the direct impact on business processes with an SSC infrastructure in place, and finish by looking at how the various types of business can benefit from the service.
Key solution benefits
Native Skype Dialling Through Existing Phone System: Businesses can retain their enterprise-class phone lines and phone system features by accessing them through SfB.
Inbound Call Delivery to SfB: Current phone system and numbers features can be kept, using them to deliver calls directly to Skype, and calls answered using the native controls.
Flexible Delivery Options: Freedom to pick and choose how and where services are delivered; conferencing, IVR and hunt groups through SSC, or through the onsite PBX.
Choice of Operating Methods: Flexible system that suits users' requirements; available as desktop, mobile, or web office applications; whether staff are office based, remote or out on the road.
No Additional Hardware Required: Not only this, but SSC is the lowest cost telephony platform for using SfB.
Single Communications Platform Within O365: Telephony can be integrated seamlessly into the daily office environment and across multiple locations.
Choice of Deployment Options: Whether via full cloud, hybrid, or on-premise solutions, SSC can be suited to fit whatever stage of the journey to the cloud a business is at.
Array of features as standard: Including; Full call control from within Skype: Dial, answer, hold, and transfer. Call recording, instant messaging, video calls, screen sharing, voicemail, audio conferencing, IVR, call groups and routing, and Active Directory integration showing presence across the business.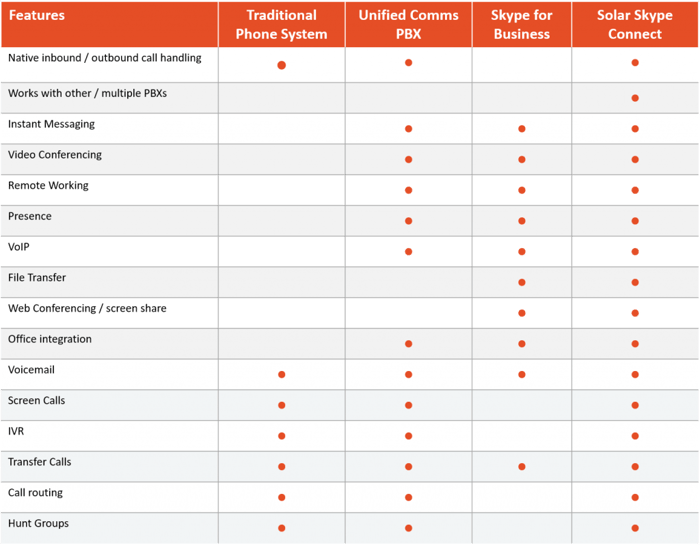 The Impact of SSC on business
Cloud migration: Migrating to the cloud is a challenge for many businesses with concerns around security and feature parity with on-premise solutions. Many cloud services have a feature gap compared to their on-premise equivalents and migration is often seen as risky due to the 'big bang' nature of the change. SSC, whilst improving productivity and scalability for growth, also provides a low risk strategy for migrating office and communications to the Cloud.
IT Department ROI: Many IT departments are hampered by maintaining existing systems and infrastructure. This maintenance limits their ability to innovate and focus on new projects that could add great benefit to the business. By transferring to the Cloud, resources assigned to manage infrastructures can be significantly reduced, if not eliminated altogether. The reason being; Cloud applications run on automated platforms. Removing 'everyday' challenges by migrating to the Cloud opens the opportunity to utilise IT resources on more mission-critical projects.
Headcount management: Better known as scalability or flexibility. Today's organisations need to be able to scale up and down their workforces without wasting time and money on upgrade projects that lock them into certain bands of user volumes. Ideally businesses would like to add and remove users as and when needed, and traditional UC implementations do not always facilitate this. SSC gives businesses the flexibility to add, remove, or reallocate users at the click of a button with local access to services and administration.
Business resilience: Many businesses still host their core Unified Communication services in a single location and are therefore vulnerable to failure. Whether it be a systems failure, natural disaster or act of God it is imperative that the modern business has a continuity plan.
Implementing a resilient version of a business grade telephony platform is often expensive, time consuming and subject to resource availability. Cloud based Unified Communication solutions can provide resilience without significant additional investment, long lead times and drawn out deployments.
Remote working: The modern business requires technology that empowers employees to do their best work from anywhere, keeps data safe, and enables collaboration across different locations and devices. In short, remote workforces require access to the same core services that office based staff have. Adding this capability to most on-premise solutions can often require extra hardware, licenses, integration services, and most likely the use of a VPN to deliver the capability. SSC is flexible in suiting users' requirements; available as desktop, mobile, or web office applications; whether people are office based, remote, or out on the road.
Budget management: Many businesses would prefer to migrate to an op-ex model which provides predictable costs leaving capital investments for other projects more closely related to strategic goals. Businesses can be isolated from the shock of upgrade costs often encountered when expanding their system. SSC is delivered as a monthly subscription providing predictable monthly op-ex costs.
SSC – A solution that benefits all
The beauty of SSC lies in its adaptability to organisations of any type and within any sector. The seasonal start-up has as much to gain from the service as the multi-site powerhouse.
Mobile work force - The voice, presence and instant messaging capabilities of SSC extend corporate comms to anywhere connectivity can be achieved, boosting the capacity of those businesses reliant on a mobile workforce.
Seasonal – SSC is effortlessly scalable, meaning users can be added and removed at will in line with demand.
Multi-site business – SSC can be integrated into multiple sites within a business and runs independently at each, so if one site was to go down, the others wouldn't be affected. However, with business continuity inherent within the solution, such a scenario is extremely unlikely.
Start-ups – With capital being particularly decisive to new businesses, SSC provides a low-cost entry to Cloud capability. The scalability it allows means the solution can be altered to fit with growth and contraction as and when either occurs.
Public sector – The public sector has the same requirements for high quality comms solutions as the private sector, but often the budget to finance them is smaller. As such, Microsoft incentivises the sector with lower cost licensing programs.
If you would like to learn more about Solar Seamless Connect and how to choose the right solution for your business, why not download our eBook which is a useful tool in helping you decide whether cloud is right for you.
Or why not check out our other eBook about Solar Seamless Connect which covers how SSC can be the solution that helps unifiy your communication platforms into a single, scalable solution