The communication requirements in a business vary depending on the individual user and how the user would like to communicate.
Mitel MiCloud Office's flexible packaging can be combined in any fashion you like to fully support all your user needs in your organisation. This includes support for basic users, advanced users, mobile workers, call centre agents or attendant users.
Detailed below are the MiCloud Office User seats, included organisation features and value added options.
MiCloud Office Licenses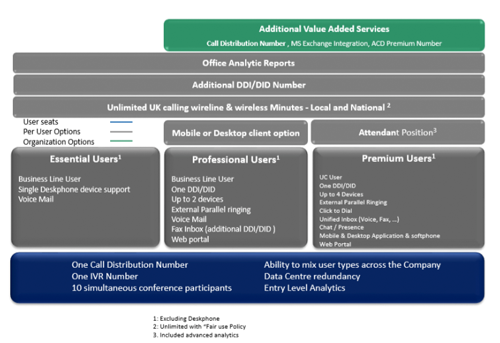 All MiCloud Office packages includes advanced telephone features such as: Voice conference capabilities (10 simultaneous participants), IVR, basic call distribution number and Entry Level Analytics. You will also have the traditional telephony functions supported in your selected device.
MiCloud Office Essential
The MiCloud Office Essential Edition license is a more traditional solution were the calling is done from one device, your SIP deskphone. You require high voice quality in all your communication. Voice mail included. Primarily intended for common work areas such as meeting rooms and lobby phones.
MiCloud Office Professional
If you are considering the MiCloud Office Professional Edition license you typically appreciate the simplicity yet you require more advanced functions. You are looking for an opportunity to add one additional device for your communication needs. Perhaps you want to use your PC, mobile or even a mobile application in addition to your primary device such as the SIP deskphone.
Included in the Business solution are all functions from the Essential package, one DDI/DID number, support to add an optional device, parallel ringing (twinning) on the two devices, add an optional fax DDI/DID number so that you can receive faxes. A web portal lets you define your settings and profile.
MiCloud Office Premium
For the Power User, the MiCloud Office Premium Edition license enables a full unified communications solution to allow you to work from any device anywhere and anytime. You know that multi purpose presence and chat enables you to stay connected with customers, even when you're away from your office with seamless mobility features.
Included in the solution are all functions from the Professional package, presence, chat, support for up to 4 devices, desktop client for Windows or Mac, mobile app with mobile VoIP capabilities, unified inbox. The desktop client allows you to send SMS to a person or a group.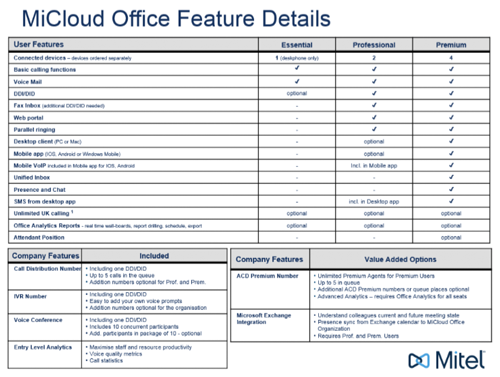 Value Added Services (optional extras)
A set of Additional Value Added Services can be added to the packages, depending on selected configuration, that allows you to grow and handle more advanced communication requirements.
Optional value added features include:
Unlimited local and national calling (fair usage policy applies)
Office Analytics Report (call reporting and live wallboards)
Attendant positions (Reception Console)
Additional DDI numbers
Additional conference capacity (Dial-in Conference Bridge)
Additional IVR numbers (Auto Attendant, Press 1 for this, 2 for that)
Additional call distribution number (Hunt Groups)
ACD Premium numbers including Advanced Analytics Additional ACD Premium queue places (Cloud Contact Centre License)
MS Exchange integration (Sync your UC presence with your Outlook Calendar)
Cloud Call Centre Features
For incoming calls, MiCloud Office provides call centre and attendant functionality, allowing a group of users to be addressed by a single number, where both fixed, mobile and SIP desktop phones can be included.
For call centre groups, skill based routing, automatic agent logout, manager assistance, presence based call distribution and agent resting time is supported with queues that have group specific greetings and progress messages.
Following lists the group number services in MiCloud Office:
Call Distribution Number - a function number with queue to distribute calls to logged in agents. This group could have up to 5 calls in the queue, queue progress message while in queue, parallel/sequential distribution of call. Agents receiving the calls could order by priority. Fallback number could be set when no agent is available or max waiting time has been exceeded for new calls. Call could also be forwarded to another number based on opening/closing hours.
ACD Premium Group Number – This group number has all the features of Call Distribution Number plus more capabilities. ACD Premium Group could have estimated waiting time and queue position played to caller. Callback call from the queue is also available. In addition to ordering agent by priority, this group could use skill based routing, where you set a skill of 1-5 to agents which is then used by the system during call distribution. Initial bundle has up to maximum 5 calls in queue, the customers may then purchase additional queues (bundle of 5 queues).
Attendant Group Number – This group has all the features of ACD Premium Group number with addition of Camp On capability. Camp on allows agents to transfer and queue calls to busy users/extensions. Attendant Position defines how many agents are logged simultaneously on Attendant group
Call Reporting and Analytics
Entry Level Analytics – maximise staff and resource productivity. Monitor inbound and outgoing calls. Included on all packages.
Office Analytics Report – enhanced reporting. Includes widgets, wallboards, schedule/save/export reports, drilling into details. Option enabled per organisation and priced per use. Office analytics report is available to all users in an organisation when ordered.
Advanced Analytics – manage customer facing teams in real-time reporting. Including staff optimisation with "what if" calculations. Bundled with Premium ACD Number and Attendant position, requires office analytics for all users.
Security
Extended SIP security is supported in terms of SIP digest authentication, call authentication and authorisation, identity spoofing protection and call policies to restrict calling locations. Additionally, SRTP and encryption using transport layer security (TLS) is enabled by default to prevent third parties listening in to calls.
Integration
The system is an open system that allows Mitel professional services to integration with other systems of choice, such as CRM systems.
Over-the-air deployment
MiCloud Office has created an easy-to-use procedure for adding, upgrading and provisioning services, users and end-user devices minimising overhead administration.
Voice Quality
HD voice quality is supported via a number of HD voice codecs. The system uses the latest techniques to provide robustness in a public internet environment.
System Reliability
Redundancy within data centre with automatic fail-over mechanisms to achieve carrier grade characteristics.
These solutions represent a convenient packaging of products under MiCloud that enable Channel Partners to better target the specific markets they are looking to service and the operational model and data centre infrastructure they have deployed.
---
If you're interested in MiCloud Office for your business and would like to speak to a UK MiCloud Reseller then call us on 0330 333 7323 or complete our MiCloud enquiry form here.