"I Could Do With An Extra Day A Week"
We're a needy breed.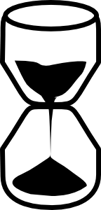 Always striving to get ahead of ourselves, we're determined to find the best solutions to save time, save money, find easier ways to do things and get there quicker.
Whether we live to work, or work to live, we still complain that we don't have enough hours in the day to complete those menial tasks in our personal lives, let alone in the workplace.
I read somewhere recently that a majority of us will spend a massive 20-30 % of our day answering emails and communicating with our colleagues to share information and collaborate on projects. A significant chunk, right?
And a recent study of knowledge workers within companies with over 500 employees reported that employees spend on average nearly an hour every day just scheduling meetings and conferences with clients and colleagues. On top of that, they're reported to have wasted about the same amount of time again duplicating work between email, phone and IM, and another 0.6hours a day dealing with unwanted communications.
That's over TWO HOURS A DAY... EACH!
So, let's think about this for a minute, and try to make some sense of this.
Let's look at your front line – Sales, Customer Service, the teams whose responsibility it is to respond to and build your customer base. A pretty important job, you'll agree. As a business, we all want to be able to deliver a competitive service to our customers, respond quickly, move on to the next one...
Time equals money, after all...
For arguments sake, let's take 100 of these employees as an example.
One Hundred people on your payroll, apparently wasting over two hours a day of your time using the systems you're providing for them – Customers being kept on hold longer, even being lost... What business can afford that?!
For the cost of 200 hours a day, you could employ another 25 staff!
Or, don't employ more staff, get more out of the ones you've already got and increase productivity levels, (and consequently PROFITS) by up to 25% instead.
If only there was a solution..
Unified Communications, a term that lends itself to the ability to seamlessly combine all areas of technology driven enterprise communications, such as voice, email, IM and Video Conferencing into one incredibly simple to use platform. And quite honestly, no one does it better than ShoreTel.
Having recently published a fascinating whitepaper "Secrets Revealed – Brilliant Simplicity and Lowest TCO", they quite clearly outline the both the benefits of their fantastically easy to use solution, alongside some pretty amazing comparisons with industry leaders when it comes to the financial implications.
However you want to look at it, you're going to be better off. It's a prime example of a 'No-Brainer'.
So, go for it.
Give that team of yours the extra day a week they're wasting and get your extra 25% back for less than it would cost to top up your workforce. And that's guaranteed.
What are you waiting for? Book a free consultation with Response today for a full assessment.
Follow us @ResponseData | @UKUnifiedComms | @AnnekaHicks
You might also like;
About ShoreTel
ShoreTel is a provider of business communication solutions whose brilliantly simple unified communications platforms, applications and mobile UC solutions promise a new rhythm of workforce engagement and collaboration. With costly complexity eliminated by design from its award winning, all-in-one IP phone system, UC and contact center solution, and its industry leading hosted business phone system, workers enjoy a freedom and self-reliance that other providers can't match. Users have full control to engage and collaborate, no matter the time, place or device, for the lowest cost and demand on IT resources in the industry.