As this year draws to a close, so too did our final event of 2017 so we just wanted to take a moment to say a big thank you to all of those who have been able to join us over the course of the year at one of our various events.
This week's roadshow event was the final one of the trilogy in conjunction with Mitel which saw us bring Solar and Mitel news, product updates and various insights to our customers up and down the country. Whilst the weather may have counted against us, those who were able to attend were attentive and an open dialogue ran throughout the day, which is what we sought at these roadshow events, an opportunity to hear from our customers, learn about their needs to enable us to deliver the best service possible.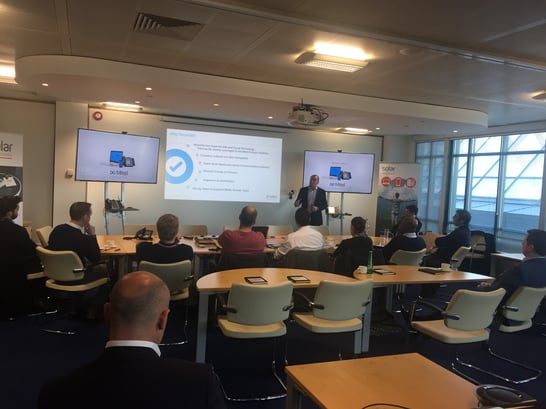 The day was then topped off with a few Christmas drinks and nibbles at Dirty Martini, but a stones throw from Mitel, but still far enough to justify a well deserved beer or two! As the final glasses were collected, the metaphorical curtain on what has been a busy year for us so too closed. From having a stand at IP Expo, to hosting dinners, seminars, webinars, golf days as well as a number of roadshow events and a ransomware event at the Etihad too we have had a jam-packed calendar where we have aimed to bring our customers the newest and latest information from us, our partners and the wider IT landscape.
The reason we do these events is for you. We strive to deliver value to your business and we aim to deliver a personable and friendly service that goes beyond your communication requirements so meeting you face to face goes a long way towards that. It is very easy to get caught up behind technology, especially in this industry where things are so fast paced but that is exactly why we feel it is vital that we understand our customers and their needs.
If you were unable to join us or if there weren't any events that peaked your interest, please tell us! We want to make sure we are delivering value to your business so please tell us if there is something you want to hear about and we will endeavour to produce content and put on events either bespoke or business wide if the demand is there.
Simply leave us your email address on the right hand side or below and we will ensure you don't miss out on any future events.
Next year promises to have more of the same as we already have a number of events in the pipeline to ensure we hit the ground running – stay tuned!